CALL TO ACTION #841: Demand Trump Fire Architect of Hate Stephen Miller (January 23, 2020)

285 Days
Until the November 3rd Election
---
DEMAND TRUMP FIRE
ARCHITECT OF HATE
STEPHEN MILLER 
---
Trump has transformed our government into one that can and does abuse anyone who is not white, including migrants from Central America and those from what he calls "shithole countries." Trump's racist history is long and painful, but it's best captured in a photograph of a dead child washed up on a riverbank in Texas clutching her dead father. 
Ask the experts on racism. A Washington Post-Ipsos survey found 8 in 10 black Americans believe Trump is a racist. The impact: only 16% said black children today have a good shot at the American dream. White supremicist Stephen Miller is the architect of Trump's hateful racist policies.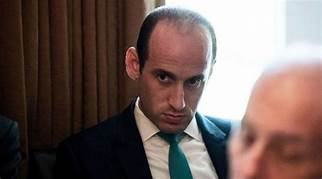 We care because: 
Cruelty must not stand as an official

American

 policy.

 

Trump

is pitting Americans against one other by color and religion, dividing us for his own political purposes. 
Trump is rolling back civil rights. 
Hate crimes are increasing.

 

Fear and anxiety 

permeate

 the classrooms of children of color. 



We strongly believe that diversity strengthens our communities and the nation. Turning our heads to look the other way is not an option. Please make your voices heard.
"Our lives begin to end the day we become silent about things that matter." (Dr. MLK, Jr.)
---
**ACTION ONE:
CALL OUR SENATORS
**
https://ord2indivisible.org/wp-content/uploads/2020/01/fire-bigot-miller-in-wh.jpeg
155
419
CTA Team
https://ord2indivisible.org/wp-content/uploads/2017/06/ord2Logo-300x105.png
CTA Team
2020-01-23 06:48:53
2020-01-23 06:48:53
CALL TO ACTION #841: Demand Trump Fire Architect of Hate Stephen Miller (January 23, 2020)