CALL TO ACTION #778: Trump Fails to Protect 2020 Election; That's Impeachable!(October 11, 2019)
---

388 Days
Until the 2020 Election
---
TRUMP Fails to Protect 2020

ELECTION!

 
THAT

'S IMPEACHABLE!
---
By most objective measures, and the growing likelihood of his impeachment, Donald Trump will not be reelected in 2020. But . . . it may happen.  
That's because Russia is still pumping out disinformation, according to a chilling report from the Senate Intelligence Committee that meticulously documents Russia's massive "disinformation" campaign behind Trump's 2016 victory.  
Russians mass-produced nearly 200,000 Facebook and Instagram posts, and 10.4 million tweets. Their goal was to help Trump and hurt Hillary Clinton. Putin succeeded. According to the Senate report, the Russian information warfare campaign is "ongoing." Their goal is to exacerbate social divisions and to erode public confidence in government—Trump's strategy as well.  
The bipartisan Senate report recommends social media companies, Congress and the president work together to block and expose the real fake news.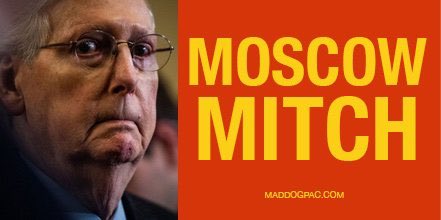 How likely is that? Moscow Mitch has blocked everything in Congress, and Trump can't bring himself to even ask Russia to stop the attacks. And a Facebook spokesperson said foreign interference "violates our values." Wow. 
So, Where's Walden on this issue? Selling us out!
If our democratic system is to survive, it must be defended. Call your Members of Congress and demand it. So much is riding on the 2020 election.  
Protect Our Elections!
Proceed with Impeachment!
Walden Sold You Out!
---
**ACTION ONE: CALL OUR SENATORS**
SAMPLE SCRIPT FOR SENATORS MERKLEY AND WYDEN:
"My name is [–] and I'm a constituent from [town/city], Oregon [zip code]. I am calling . . .
 . . . because I'm grateful for the Intelligence Committee's report on Russian attacks on our elections. But we are still vulnerable and even bipartisan proposals have been blocked. I ask that you continue to speak out on election security and support the impeachment process, or we will repeat 2016 and suffer the consequences.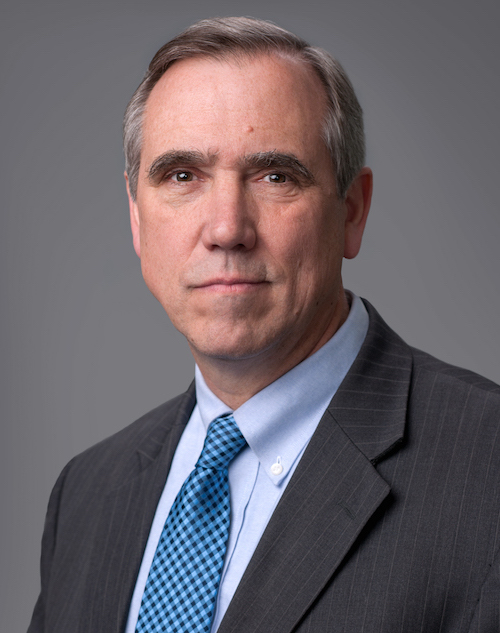 SENATOR JEFF MERKLEY
Portland: (503) 326-3386, DC: (202) 224-3753
Salem: (503) 362-8102, Eugene: (541) 465-6750
Medford: (541) 608-9102, Bend: (541) 318-1298
Pendleton: (541) 278-1129
https://www.merkley.senate.gov/contact/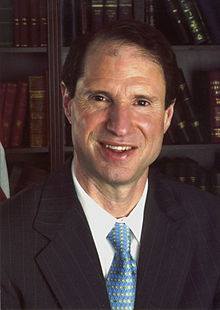 SENATOR RON WYDEN
Portland: (503) 326-7525, DC: (202) 224-5244
Salem: (503) 589-4555, Eugene: (541) 431-0229
Medford: (541) 858-5122, Bend: (541) 330-9142
La Grande: (541) 960-7691
https://www.wyden.senate.gov/contact/
---
**ACTION TWO:

CALL COMPLICIT GREG WALDEN**
SAMPLE SCRIPT FOR WALDEN:
"My name is [–] and I'm a constituent from [town/city], Oregon [zip code]. I am calling . . .
. . . because the Senate Intelligence Committee warns that we are still vulnerable to Russian attacks on our elections. Greg Walden's loyalty to his party leaves us vulnerable to a 2016 reprise. Please ask Greg to put country over party and demand robust defence of our elections.
Through Greg's actions and inactions — the silence is deafening— he continues to signal that he fully supports Trump, regardless of how much damage Trump is doing to our democracy and to world stability. Know that we are still here, we will hold him accountable, we are working to flip his seat BLUE — #2020IsNow!
---
ORD2 Indivisible 2020 Fundraising Campaign
As we approach what will be the most important election of our lifetimes, ORD2 Indivisible wants to be in a secure financial position to help engage as many voters in our district in the election process as possible. To accomplish this goal we are conducting the ORD2 Indivisible 2020 fundraising campaign.
The next 20 people who donate $20 (or more) will receive a prize!
Please make an online donation by clicking on the 2020 image below: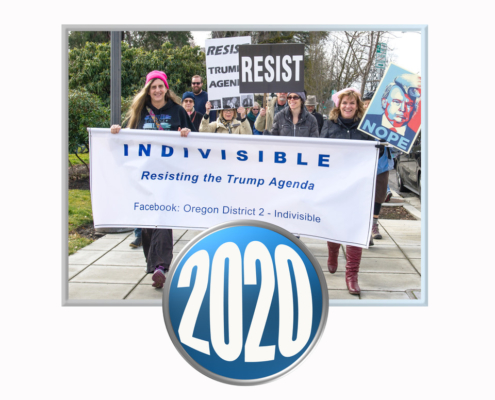 To make a donation by check, please make the check payable to ORD2 Indivisible and mail to:
ORD2 Indivisible
P.O. Box 1242, Phoenix, OR 97535
---
Wired, Oct. 8, 2019: "Russia's Disinformation War Is Just Getting Started"      https://www.wired.com/story/russias-disinformation-war-is-just-getting-started/    
Washington Post, Oct. 8, 2019: "Bipartisan Senate report calls for sweeping effort to prevent Russian interference in 2020 election" https://www.washingtonpost.com/technology/2019/10/08/bipartisan-senate-report-calls-sweeping-effort-prevent-russian-interference-election/    
CNBC, Oct. 9, 2019: "Russian trolls tried to convince African Americans not to vote in 2016, US Senate says"  https://www.cnbc.com/2019/10/09/senate-intel-report-russian-trolls-targeted-african-americans-in-2016.html    
Bloomberg, Oct. 8, 2019: "Russian Operative Said 'We Made America Great' After Trump's Win" https://www.bloomberg.com/news/articles/2019-10-08/senate-intelligence-panel-warns-russian-meddling-continues   
MIT's Technology Review, Oct. 9, 2019: "A Senate report has ideas for fighting disinformation. Don't hold your breath" https://www.technologyreview.com/f/614516/disinformation-russia-election-interference-senate-intelligence-report/    
https://ord2indivisible.org/wp-content/uploads/2019/05/Election-Security-e1557150589686.jpg
93
244
CTA Team
https://ord2indivisible.org/wp-content/uploads/2017/06/ord2Logo-300x105.png
CTA Team
2019-10-11 06:49:26
2019-10-11 06:49:26
CALL TO ACTION #778: Trump Fails to Protect 2020 Election; That's Impeachable!(October 11, 2019)