CALL TO ACTION #863: Take Back the Senate to Rescue Our Democracy (February 21, 2020)

256 Days
Until the November 3rd Election
---
TAKE BACK THE SENATE TO RESCUE OUR DEMOCRACY 
---
Trump took the GOP Senators' refusal to convict him as a green light to escalate his assault on the rule of law. In just two weeks, he's:  
Punished impeachment trial witnesses

 

P

ublicly inter

fered 

in

 Stone's criminal sentencing

 

Demanded Barr "clean house" at DOJ

, claiming a "seditious conspiracy" by a "criminal gang" at FBI and DOJ

 

Falsely declar

ed

 himself 

America's 

"chief law enforcement officer"

 

Granted executive clemency to 

rich, corrupt

,

 undeserving

, white-collar felons, whose crimes mirrored his own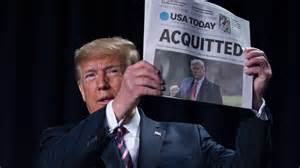 The GOP Senators' inaction makes them directly responsible for his latest affront to our democracy—an excellent reason to do everything possible to send them packing in November.
Of the twelve Super States targeted by Swing Left, seven (Arizona, Colorado, Texas, Iowa, Georgia [2 seats], North Carolina, Maine) have Senators who refused to impeach Trump that are up for reelection. We can help their soon-to-be-chosen Dem opponents with money, canvassing, and exhortations to register and vote. 
We all must join this fight to take back the Senate, sending a clear message that those who undermine our democracy and violate their constitutional duties have no place in our government. 
When? Now!
Who? Us!
What? Take Back The Senate!
---
**ACTION ONE:

TAKE ACTION IN 2020

 TO TAKE BACK 

THE SENATE AND PROTECT 

OUR DEMOCRAC

Y

**

Between now and November commit to doing the following on a regular basis:  
Early money matters. Donate with ORD2 Indivisible, Indivisible Oregon and Swing Left to

elect a NEW SENATE

 by helping to support those candidates who will throw out Trump's lackeys in November. Every donation to flip the Senate is one step closer to defeating Mitch McConnell as Senate Majority Leader. 

 

Sign up for Swing Left's regular letter writing parties at

Take Action Now

. 

Call Congress with ORD2 Indivisible at least weekly to regularly remind our Members of Congress of the importance of securing our elections.  
---
ORD2 Indivisible 2020 Fundraising Campaign
As we approach what will be the most important election of our lifetimes, ORD2 Indivisible wants to be in a secure financial position to help engage as many voters in our district in the election process as possible. To accomplish this goal we are conducting the ORD2 Indivisible 2020 fundraising campaign. Click on the image below to donate.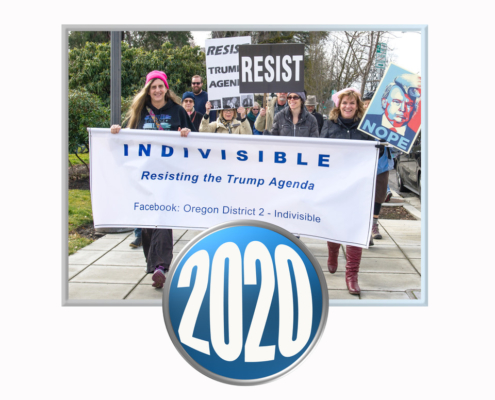 To make a donation by check, please make the check payable to ORD2 Indivisible and mail to:
ORD2 Indivisible
P.O. Box 1242, Phoenix, OR 97535
---
ORD2 Indivisible is partnering with Jobs With Justice Southern Oregon and Washington Federal Bank to gather warm adult clothing for the homeless. We are also asking for tarps, throw blankets and sleeping bags.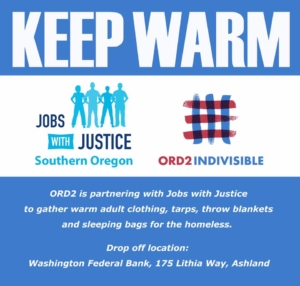 Please donate generously!
---
https://ord2indivisible.org/wp-content/uploads/2020/02/2020-blue-wave-2.jpeg
300
300
CTA Team
https://ord2indivisible.org/wp-content/uploads/2017/06/ord2Logo-300x105.png
CTA Team
2020-02-21 06:46:33
2020-02-21 06:46:33
CALL TO ACTION #863: Take Back the Senate to Rescue Our Democracy (February 21, 2020)