CALL TO ACTION #849: We're Working for a Strong and Just State of the Union (February 4, 2020)

273 Days
Until the November 3rd Election
---
WE'RE WORKING FOR A
STRONG AND JUST
STATE OF THE UNION
---
Three years into Trump's rule, the Union — and our Constitution — are under constant attack. The most corrupt, incompetent POTUS ever will become a de facto king if the Senate votes to acquit him tomorrow. But we do not recognize him as our legitimate leader. We refuse to accept the cover-up. Donald J. Trump has never been our president, and he will never be our king.

Indivisibles have fought hard to prevent this moment; for that we are profoundly grateful. Now, how do we repair the Union? By not quitting. 
Trump's attacks on the fair trial, fair judges, a fair Justice Department and the rule of law must be stopped.
His racist immigration policies must be stopped (See Action Three).
His attacks on environmental protections must be stopped.
He's coming after Medicare and Social Security. He must be stopped.
He and his traitorous GOP must be stopped in November.
We are committed to building a

BLUE WAVE in 2020

that will make 2018 look like a ripple.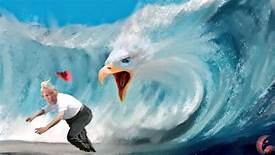 Going forward, we ask our Members of Congress to focus on threats to fair elections.
Root out the dangers of voter suppression and hackable ballot boxes.
Hold hearings.
Conduct investigations.
Issue subpoenas.
Fair elections can and will save America from four more years of Trump's GOP. We'll have another chance at a government . . .
Of the People, By the People, and For the People
https://ord2indivisible.org/wp-content/uploads/2020/02/we-the-people-fist.jpeg
107
71
CTA Team
https://ord2indivisible.org/wp-content/uploads/2017/06/ord2Logo-300x105.png
CTA Team
2020-02-04 07:22:10
2020-02-04 07:22:10
CALL TO ACTION #849: We're Working for a Strong and Just State of the Union (February 4, 2020)