278 Days
Until the November 3rd Election
---
TRUMP CONTINUES TO ASSAULT OUR MOST VULNERABLE CITIZENS 
---
(Note: Throwback Thursdays actions attempt to shift the focus from the Trump outrage of the moment and remind us that the brutality imposed by his policies is ongoing.)  
Last week, Donald Trump nestled comfortably among billionaires and corporate heads in Davos. Switzerland.  From there he announced that he would be open to making cuts to Social Security and Medicare, earned benefits that are vital to millions of elderly and disabled Americans. It was no surprise; attempting to gut programs that serve the most vulnerable among us has been a cornerstone of this administration. 
Our social safety net has been in danger from the moment Trump took office when he began dismantling the Affordable Care Act.  There have been endless attacks on life-sustaining programs like Medicaid and food assistance.  Newly proposed rule changes to Social Security Disability Insurance would make maintaining eligibility more difficult for older workers and people suffering from mental health conditions. 
The GOP has always wanted to cut Social Security and Medicare, or privatize them for profit.  Another term for Trump would open the door.  Call on your members of Congress to protect our most vulnerable neighbors now.  
Protect Our Safety Net!
Save Social Security and Medicare!
Healthcare for ALL!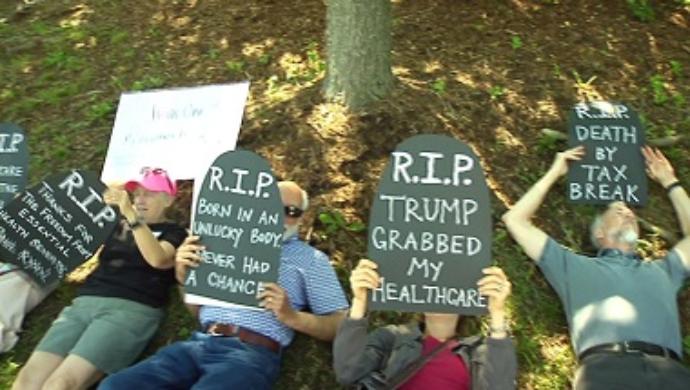 https://ord2indivisible.org/wp-content/uploads/2020/01/healthcare_1.jpg
500
955
CTA Team
https://ord2indivisible.org/wp-content/uploads/2017/06/ord2Logo-300x105.png
CTA Team
2020-01-30 06:33:19
2020-01-30 06:33:19
CALL TO ACTION #846: Trump Continues to Assault Our Most Vulnerable Citizens (January 30, 2020)