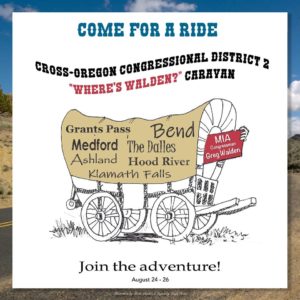 The last week of August will mark 500 days since Greg Walden has had a town hall anywhere in Oregon Congressional District 2. A lot of Indivisibles have gotten tired of his little secret meetings and have decided to do something about it.
If he won't bring a town hall to us, we've decided to take one to him.
On the weekend of Aug. 24-26, please join us for what we hope is the first and last cross-district

"Where's Walden?"

caravan.
Your ORD2 steering committee is working hard to finalize the details for next week's caravan. We are in process of working with other Indivisible groups to confirm exact times and locations. But here is the schedule so far:
FRIDAY
SATURDAY
10 a.m. Meet for a "Where's Walden?" Rally at Moody Park. Caravan leaves at 11.
1:30 p.m. Arrive in The Dalles and meet Indivisible Columbia Gorge at 

The Dalles City Park, 707 Union St

. Caravan leaves at 3:00.
4 p.m. We arrive at the Hood River.  Meet at the Chamber of Commerce, 720 E. Port Marina, for a party and town hall outside Greg Walden's office. We don't know if he'll be there, but Jamie McLeod-Skinner will!
Spend the night in Hood River.
SUNDAY, we'll gather for a little coffee and canvassing before we all head home.
You can drive or ride along for any or all of the route, or just meet us at one of the locations to help us tell Greg Walden that we're tired of not having town halls, so we're taking our questions and concerns to him.
Everyone will be responsible for their own gas, food and accommodations. Some Indivisibles have offered homestays. Others are looking for someone to ride with.  (Anyone coming over from Baker City?) Dress up your car if you can. We'll have t-shirts and "Where's Walden?" signs available at every stop.
To learn more about available homestays or to make ride-along arrangements, either as a driver or a passenger, or if you have other questions, please send an e-mail to Teresa Safay at  or send her a private message via Facebook. Please let us know – soon! — if you plan to be part of the caravan, so our wonderful hosts can get a headcount.
Visit the Event Calendar on the ORD2 Indivisible website for additional details: https://ord2indivisible.org/calendar/
---
DAYS UNTIL MID-TERM BALLOTS WILL BE MAILED:
58
DAYS UNTIL MID-TERM BALLOTS ARE DUE:
78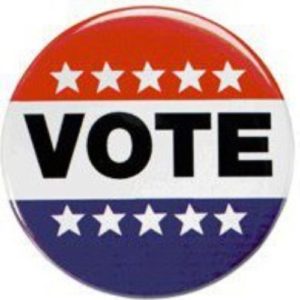 ---
FAMILIES ARE STILL TORN APART
MUST BE REUNITED
---
After creating the family separation policy, ignoring evidence that separation would harm families, and subjecting children to abuse, the Trump regime has now abandoned these families and is asking children to make impossible choices.
565 children are still separated from their families through policies that the administration was told would cause "traumatic psychological injury" to children.  These children are also being subjected to abuse that includes:  being forced to drink from toilets, denied showers and baths, given spoiled frozen food to eat, sending infants to immigration court – alone.
The regime has not complied with the order to reunite all families and is at the point of abandonment.  They have even suggested that other organizations work to reunite families.  The judge presiding over the case rejected this suggestion outright. But no progress has been made and some children, whose parents have been deported, are being forced to choose between staying in the US and never seeing their family or returning home to violence. The trauma these children face has no end in sight.
Stop Traumatising Children and Families!
Pass the REUNITE Act! 
---
**ACTION ONE:
CALL OUR SENATORS**
SAMPLE SCRIPT FOR MERKLEY AND WYDEN:
"My name is [Name]. I am a constituent and voter living in [ – ], Oregon, ZIP code [number]. I am calling because I am outraged that over 500 children are still separated from their families.  I ask that Senator ________ work to pass the REUNITE Act immediately and work towards legislation that will provide for reparations and citizenship. Thank you."
SENATOR RON WYDEN 
Portland: (503) 326-7525, DC: (202) 224-5244
Salem: (503) 589-4555, Eugene: (541) 431-0229
Medford: (541) 858-5122, Bend: (541) 330-9142
La Grande: (541) 960-7691
https://www.wyden.senate.gov/contact/
SENATOR JEFF MERKLEY 
Portland: (503) 326-3386, DC: (202) 224-3753
Salem: (503) 362-8102, Eugene: (541) 465-6750
Medford: (541) 608-9102, Bend: (541) 318-1298
Pendleton: (541) 278-1129
https://www.merkley.senate.gov/contact/
---
**ACTION TWO:

  CALL COMPLICIT GREG WALDEN!**

Sample Script:

"My name is [Name]. I am a constituent and voter living in [ – ], Oregon, ZIP code [number]. I am calling because I am outraged that over 500 children are still separated from their families.  Mr. Walden must put PEOPLE BEFORE PARTY and work to pass the House version of the REUNITE Act immediately, and work towards legislation that will provide for reparations and citizenship. Thank you."
https://ord2indivisible.org/wp-content/uploads/2018/06/We-Are-Human-e1528161694406.jpg
319
600
CTA Team
https://ord2indivisible.org/wp-content/uploads/2017/06/ord2Logo-300x105.png
CTA Team
2018-08-20 06:58:11
2018-08-20 07:13:38
Call to Action: August 20, 2018