Call to Action: August 17, 2018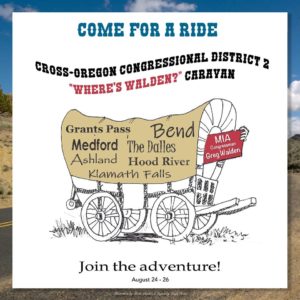 The last week of August will mark 500 days since Greg Walden has had a town hall anywhere in Oregon Congressional District 2. A lot of Indivisibles have gotten tired of his little secret meetings and have decided to do something about it.
If he won't bring a town hall to us, we've decided to take one to him.
On the weekend of Aug. 24-26, please join us for what we hope is the first and last cross-district "Where's Walden?" caravan.
Your ORD2 steering committee is working hard to finalize the details for next week's caravan. We are in process of working with other Indivisible groups to confirm exact times and locations. But here is the rough schedule so far:
FRIDAY, Aug. 24, 10-ish, participants meet in Grants Pass and Ashland; 11 a.m. – those two groups merge at the Armory in Medford (1701 S Pacific Hwy, Medford); group motors to Klamath Falls, arriving 2-ish, then ends the day in Bend at 6 p.m.-ish.
SATURDAY: kicks off with a rally in Bend; the caravan motors to The Dalles, then on to Hood River, arriving around 4 p.m., for a rally there.
You can drive or ride along for any or all of the route, or just meet us at one of the locations to help us tell Greg Walden that we're tired of not having town halls, so we're taking our questions and concerns to him.
Participants are encouraged to carpool and are responsible for their own food and overnight accommodations. Some Indivisible members are offering spare rooms or camping places. We have made awesome Where's Walden t-shirts and signs for the event and encourage everyone to dress up their cars with windshield paint and blue ribbons.
Visit the Event Calendar on the ORD2 Indivisible website for additional details: https://ord2indivisible.org/calendar/
---
DAYS UNTIL MID-TERM BALLOTS WILL BE MAILED:
61
DAYS UNTIL MID-TERM BALLOTS ARE DUE:
81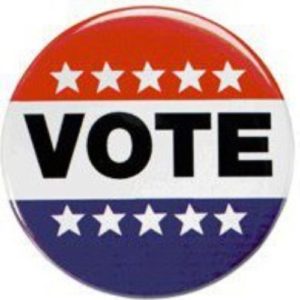 ---
PROTECT OUR NATIONAL SECURITY
CONDEMN SECURITY CLEARANCE REVOCATIONS
STOP RUSSIAN ELECTION ATTACKS
---
On Wednesday, Trump abruptly revoked ex-CIA Director John Brennan's security clearance and threatened that of nine other senior intelligence officials who'd criticized him or been involved in the Mueller investigation. This decision harms national security. It cuts off critical resources for current intelligence officials and emboldens our adversaries by signaling Trump's mistrust of our national security agencies.
There's no question Russia interfered in 2016 elections – stealing voter data, attempting to access voting systems in 21 states, conducting cyber-attacks against Clinton. By ignoring these allegations when meeting Putin in Helsinki, Trump emboldened Russia to repeat its attacks—which is already happening.
Where's Walden!?! Enabling Trump's anti-American actions, that's where!
Russia's pervasive election attacks must be countered on multiple fronts:
Sufficiently fund making elections secure
Boost cyber-defenses
Severely punish those interfering
Along with shoring up election security, pending legislation (S.3336 and HR.6437) imposes severe sanctions on Russia that will continue until all election interference ceases.
Congress must respond forcefully to these national security threats — strongly condemning revocation of Brennan's security clearance and immediately enacting:
Defending American Security from Russian Aggression Act (S.3336), imposing crushing sanctions, increasing defenses against cyber-activities, securing voting systems
Secure America from Russian Interference Act (HR.6437)
Time is of the Essence!
Election Integrity is at Stake!
---
**ACTION ONE:
CALL OUR SENATORS**
SAMPLE SCRIPT FOR MERKLEY AND WYDEN:
"My name is [–] and I'm a constituent and voter from [city], Oregon [zip code]. I am calling to DEMAND that the Senator condemn Trump's decision to revoke the security clearance of former CIA Director, John Brennan, and that Congress take immediate steps to secure our elections from outside interference by passing S.3336. Time is of the essence. The integrity of the midterms is at stake. Thank you."
SENATOR RON WYDEN 
Portland: (503) 326-7525, DC: (202) 224-5244
Salem: (503) 589-4555, Eugene: (541) 431-0229
Medford: (541) 858-5122, Bend: (541) 330-9142
La Grande: (541) 960-7691
https://www.wyden.senate.gov/contact/
SENATOR JEFF MERKLEY 
Portland: (503) 326-3386, DC: (202) 224-3753
Salem: (503) 362-8102, Eugene: (541) 465-6750
Medford: (541) 608-9102, Bend: (541) 318-1298
Pendleton: (541) 278-1129
https://www.merkley.senate.gov/contact/
---
**ACTION TWO:

  CALL COMPLICIT GREG WALDEN!**

Sample Script:

"My name is [–] and I'm a constituent and voter from [city], Oregon [zip code]. I am calling to DEMAND that Mr. Walden transcend party lines and condemn Trump's decision to revoke the security clearance of former CIA Director, John Brennan. He must put Country BEFORE Party. I also urge him to be a leader in condemning Russian interference in our elections and convincing his colleagues to pass HR. 6437 to secure our elections from outside interference. Time is of the essence. The integrity of the midterms is at stake. Thank you."
https://ord2indivisible.org/wp-content/uploads/2018/08/When-Injustice-Beomes-Law.png
205
399
CTA Team
https://ord2indivisible.org/wp-content/uploads/2017/06/ord2Logo-300x105.png
CTA Team
2018-08-17 07:08:06
2018-08-17 07:08:06
Call to Action: August 17, 2018