Call to Action: August 14, 2018
DAYS UNTIL MID-TERM BALLOTS WILL BE MAILED:
64
DAYS UNTIL MID-TERM BALLOTS ARE DUE:
84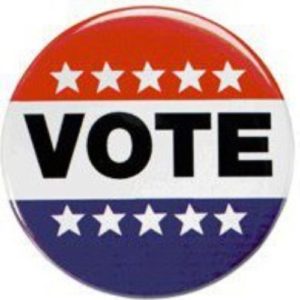 SAVE VOTING RIGHTS
STOP BRETT KAVANAUGH
---
Voting is a sacred act.  Free and fair elections are the bedrock of democracy.  The 2018 elections are the most important in our lives with forces working to interfere in the voting.
Our votes are being attacked by Russia.  The intelligence community has warned "the digital infrastructure that serves this country [US] is literally under attack" with "Russia continuing their efforts to undermine our democracy." Senator McCaskill's server has already been attacked.
Our votes are being undermined at home through voter suppression, vote purging, and gerrymandering. The 2016 elections, first since the Voting Rights Act was overturned, saw 863 less polling stations.  Election technology can be hacked by an 11-year-old.
Our votes will be harder to cast if Brett Kavanaugh is confirmed to the Supreme Court.  He upheld South Carolina voter ID laws, referencing voter fraud (myth) when the Obama Administration cited a Voting Rights Act violation.
Our Senators are working hard to protect our votes.  They have introduced the Protecting American Votes and Elections Act (PAVE Act) and are working to stop Kavanaugh's conformation. Thank our Senators and urge them on. Make sure your friends and family are calling THEIR Senators!
Pass the PAVE Act!
Stop Kavanaugh's Conformation!
---
**ACTION ONE:

CALL OUR SENATORS**
---
SAMPLE SCRIPT FOR MERKLEY AND WYDEN:
"My name is [–] and I'm a constituent and voter from [city], Oregon [zip code]. Brett Kavanaugh threatens almost every value I hold dear including voting rights. I am calling to thank the Senator for strongly speaking out against this nomination.  I ask that the PAVE Act be passed immediately and that he makes sure Kavanaugh's entire record is reviewed while doing all he can to stop Kavanaugh from being confirmed. Thank you."
SENATOR RON WYDEN 
Portland: (503) 326-7525, DC: (202) 224-5244
Salem: (503) 589-4555, Eugene: (541) 431-0229
Medford: (541) 858-5122, Bend: (541) 330-9142
La Grande: (541) 960-7691
https://www.wyden.senate.gov/contact/
SENATOR JEFF MERKLEY 
Portland: (503) 326-3386, DC: (202) 224-3753
Salem: (503) 362-8102, Eugene: (541) 465-6750
Medford: (541) 608-9102, Bend: (541) 318-1298
Pendleton: (541) 278-1129
https://www.merkley.senate.gov/contact/
---
**ACTION TWO:

CALL COMPLICIT GREG WALDEN**
---
SAMPLE SCRIPT FOR WALDEN:
"My name is [–] and I'm a constituent and voter from [city], Oregon [zip code]. I am very concerned about our election security and the 2018 midterms.  Mr. Walden must wake up to Russian attacks on our democracy, put COUNTRY BEFORE POTUS AND PARTY, and work to immediately pass the House version of the PAVE Act.  Thank you."
COMPLICIT GREG WALDEN
DC (202) 225-6730, Medford: (541) 776-4646,
Bend (541) 389-4408, La Grande (541) 624-2400
https://walden.house.gov/contact-greg/email-me
---
**ACTION THREE:

SAVE VOTING RIGHTS AND KEEP WORKING TOWARD THE MIDTERMS**
---
To save voting rights, we need to:
https://ord2indivisible.org/wp-content/uploads/2017/04/24-Dasja-Dolan-1.jpg
932
1400
CTA Team
https://ord2indivisible.org/wp-content/uploads/2017/06/ord2Logo-300x105.png
CTA Team
2018-08-14 06:58:02
2018-08-14 07:00:54
Call to Action: August 14, 2018