250 Days
Until the November 3rd Election
---
GOP BOYCOTT IN SALEM DRAGS ON
---
"House Republicans walked out of the Oregon Capitol on Tuesday, joining their Senate colleagues in protest of a greenhouse gas emissions cap-and-trade bill." (Statesman Journal)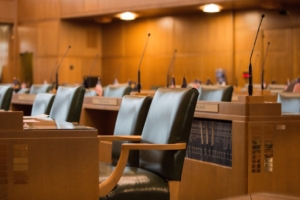 The unacceptable behavior of the Oregon GOP state senators and representatives is ongoing as they continue to deny a quorum in both chambers. Action One below addresses actions related to this legislative malpractice.
---
ACT FOR A PROGRESSIVE GOVERNMENT THAT VALUES OUR HEALTH 
---
No matter who we are or where we live, we all deserve quality medical care. This is especially important with emerging diseases.  
We are unprepared for the Coronavirus because Trump and the GOP cut the CDC budget and shuttered our government's Global Health Security Teams while giving away billions to corporations.  Former Pharma lobbyist (Secretary) Azar puts companies' Coronavirus vaccine profits over our lives.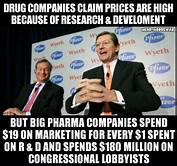 That is why we must vote in a progressive President and Congress this November.  Please take action to make this happen. You can start by helping voters participate in the historic turn out of the 2020 election by writing letters with Swing Left: www.swingleft.com/events. 
You can also join one of the many local events aimed at progressive change. See Action Two below.
Healthcare is a Human Right!
Make Universal Healthcare a Reality!
Take Personal Action NOW!
---
**ACTION ONE: GET THE OREGON LEGISLATURE BACK TO WORK

**
Join the Rural Oregon Climate Political Action Committee (ROCPAC) and citizens from all walks of life who are calling on Republican legislators to return to Salem and do the jobs they were elected to do!
Everyone interested and willing to connect and peacefully protest the walkout by the Oregon State Senate and House Republicans is invited to gather at noon daily at both the Jackson and Josephine County Republican offices.
311 W Main Street, Medford
513 NE 6th Street, Grants Pass
These daily gatherings will continue until the Republicans return to work.
Additionally, this is a link to our RAPID RESPONSE TOOLKIT FOR THE OREGON GOP BOYCOTT. Please read this document for possible actions and sample scripts. We must demand that these people do the work they were elected to accomplish. 
Click here to find who represents you.  Call or otherwise contact them to demand that they return to work and DO THEIR JOB. 
---
---
ORD2 Indivisible 2020 Fundraising Campaign
As we approach what will be the most important election of our lifetimes, ORD2 Indivisible wants to be in a secure financial position to help engage as many voters in our district in the election process as possible. To accomplish this goal we are conducting the ORD2 Indivisible 2020 fundraising campaign. Click on the image below to donate.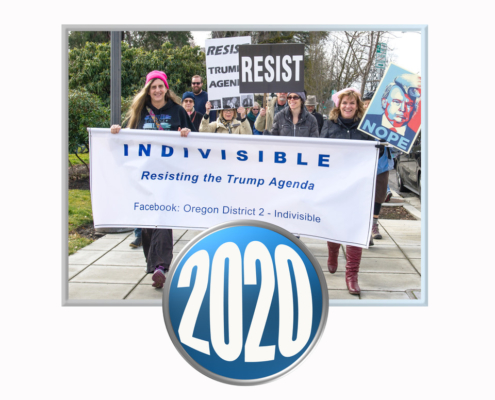 To make a donation by check, please make the check payable to ORD2 Indivisible and mail to:
ORD2 Indivisible
P.O. Box 1242, Phoenix, OR 97535
---
ORD2 Indivisible is partnering with Jobs With Justice Southern Oregon and Washington Federal Bank to gather warm adult clothing for the homeless. We are also asking for tarps, throw blankets and sleeping bags.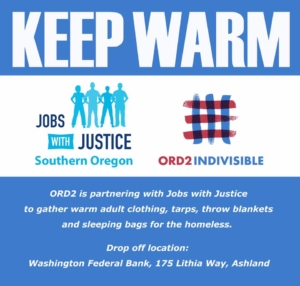 Please donate generously!
---
https://ord2indivisible.org/wp-content/uploads/2020/02/a-human-right.jpeg
158
213
CTA Team
https://ord2indivisible.org/wp-content/uploads/2017/06/ord2Logo-300x105.png
CTA Team
2020-02-28 06:40:06
2020-02-28 06:43:56
CALL TO ACTION #868: GOP Boycott in Salem Drags On; and, Act for Progressive Government that Values our Health (February 28, 2020)