CALL TO ACTION #716: Trump's July 4th Rally and Suffering at the Border Must Be Investigated (July 8, 2019)
INVESTIGATE TRUMP'S JULY 4TH RALLY
STOP THE SUFFERING AT THE BORDER 
---
Trump spent millions of taxpayer dollars on a July 4th rally designed to make him look like a strong man. Meanwhile, he says we have no money to humanely care for immigrants.
Congress must investigate misuse of public funds, demand an FEC inquiry into possible campaign law violations, and start impeachment hearings

NOW.
"How can you have all of this taxpayer money, do this event and then have the Republican National Committee be involved in such a major way, handing out VIP passes to the major donors?"  — Rep.Ted Lieu (D-CA)
Partial price tag for the event:
$2.5 million re-routed from the National Park Service meant for maintenance
Transportation for 2 tanks @ $870,000
Flyovers by fighter jets and Air Force One @ $1-2 million
$750,000 of donated fireworks from an industry seeking tariff relief
Bleachers, Presidential security, concert lighting
Property damage to the Mall and streets
By contrast, Members of Congress cannot use congressional funds to even participate in a parade, according to the House personnel manual.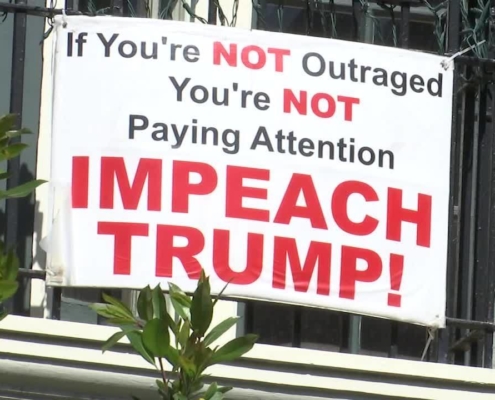 Make your calls! Demand: 
FEC Inquiry into Trump's Bogus Rally!
Impeachment Proceedings NOW!
---
**ACTION ONE:

CALL OUR SENATORS

**
SAMPLE SCRIPT FOR SENATORS WYDEN AND MERKLEY:
"My name is [–] and I'm a constituent from [town/city], Oregon [zip code]. I am calling because . . .
. . . Trump's impeachable offenses are growing in number. The latest is his taxpayer-funded rally on July 4th. It is especially offensive since he claims he doesn't have enough money to treat immigrants humanely, and wouldn't be obligated to do so even if he did have more money.  I am asking the Senator to call for two actions:
Congressional and FEC investigations into possible campaign law and human rights law violations
An immediate inquiry into whether he has committed impeachable offenses
Thank you."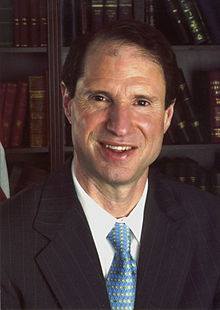 SENATOR RON WYDEN
Portland: (503) 326-7525, DC: (202) 224-5244
Salem: (503) 589-4555, Eugene: (541) 431-0229
Medford: (541) 858-5122, Bend: (541) 330-9142
La Grande: (541) 960-7691
https://www.wyden.senate.gov/contact/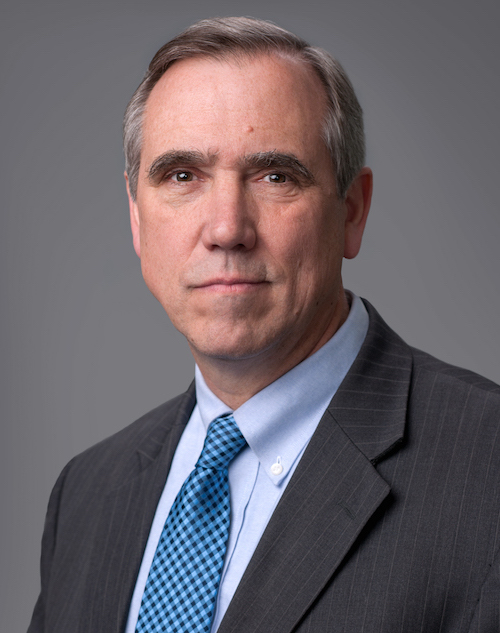 SENATOR JEFF MERKLEY
Portland: (503) 326-3386, DC: (202) 224-3753
Salem: (503) 362-8102, Eugene: (541) 465-6750
Medford: (541) 608-9102, Bend: (541) 318-1298
Pendleton: (541) 278-1129
https://www.merkley.senate.gov/contact/
---
ORD2 Indivisible 2020 Fundraising Campaign
As we approach what will be the most important election of our lifetimes, ORD2 Indivisible wants to be in a secure financial position to help engage as many voters in our district in the election process as possible. To accomplish this goal we are conducting the ORD2 Indivisible 2020 fundraising campaign.
The next 20 people who donate $20 (or more) will receive a prize!
Please make an online donation by clicking on the 2020 image below: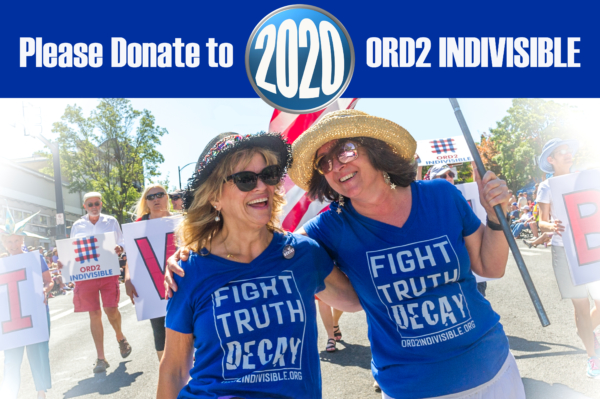 To make a donation by check, please make the check payable to ORD2 Indivisible and mail to:
ORD2 Indivisible
P.O. Box 1242, Phoenix, OR 97535
---
https://ord2indivisible.org/wp-content/uploads/2019/07/group-shot-4-july-19.jpg
1067
1600
CTA Team
https://ord2indivisible.org/wp-content/uploads/2017/06/ord2Logo-300x105.png
CTA Team
2019-07-08 06:38:11
2019-07-08 06:40:46
CALL TO ACTION #716: Trump's July 4th Rally and Suffering at the Border Must Be Investigated (July 8, 2019)