CALL TO ACTION #692: Another Attack on the Constitution Compels an Impeachment Inquiry (June 4, 2019)
Announcing our 2020 fundraising campaign!
As we approach what will be the most important election of our lifetimes, ORD2 Indivisible wants to be in a secure financial position to help engage as many voters in our district in the election process as possible. To accomplish this goal we are conducting the ORD2 Indivisible 2020 fundraising campaign.
Please consider making an online donation. Just click on the 2020 image below:
To make a donation by check, please make the check payable to ORD2 Indivisible and mail to:
ORD2 Indivisible
P.O. Box 1242, Phoenix, OR 97535
---
ANOTHER ATTACK ON THE CONSITUTION COMPELS AN IMPEACHMENT INQUIRY
---
For a moment, look beyond Robert Mueller's report and the evidence proving Trump's obstructions of justice. Trump's more destructive impeachable offense is his rejection of any law, court order or demand by Congress that doesn't suit him.
The Founding Fathers designed a government with three branches and gave each the power to act as a check on the others.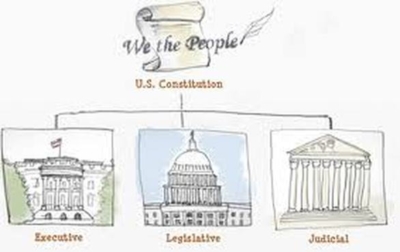 But Trump has shown little respect for the law or the Constitution.
Now, his treacherous behavior is infecting the Executive branch. Two recent examples of dozens include:
Defying Congress — The Treasury Department has simply rejected a lawful demand for Trump's tax returns
Defying a court order — The Department of Justice last Friday refused to follow a court order requiring it to release material related to the Michael Flynn investigation
Trump is hiding something and the cover-up itself demands an impeachment inquiry. That's because Trump's method of cover-up is to attack the heart of the Constitution – the oversight function of Congress and the principle that no one is above the law.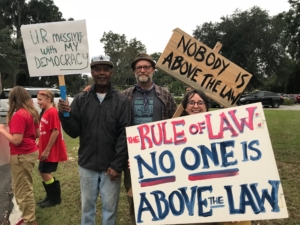 If he is beyond Congressional oversight and the reach of the law, he will become the equivalent of America's first emperor.
Combining this with Mueller's evidence necessitates the House launch an impeachment inquiry immediately.
---
**ACTION ONE:

CALL OUR SENATORS

**
SAMPLE SCRIPT FOR SENATOR WYDEN:
"My name is [–] and I'm a constituent from [town/city], Oregon [zip code]. I am calling because . . .
Trump is blocking Congress from fulfilling its oversight responsibilities. This, by itself, was one of three items in Nixon's impeachment. I ask Senator Wyden to:
As a member of the Senate Intelligence Committee and a senior member of the Senate with power and influence, we need the Senator to call for an impeachment inquiry
Educate the people of our state so they understand Mueller's report and what Trump is doing to block Congress' legitimate and vital oversight role
Raise your voice by making speeches on the floor of the Senate, by writing op-eds, by sending letters to constituents, and by joining the rest of us in every effort to save our democracy
Call out Trump's lies that he uses to make it appear he has a legitimate objection to legal demands from Congress and the courts
Thank you."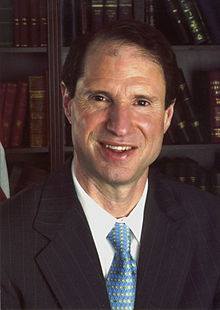 SENATOR RON WYDEN
Portland: (503) 326-7525, DC: (202) 224-5244
Salem: (503) 589-4555, Eugene: (541) 431-0229
Medford: (541) 858-5122, Bend: (541) 330-9142
La Grande: (541) 960-7691
https://www.wyden.senate.gov/contact/
SAMPLE SCRIPT FOR SENATOR MERKLEY:
"My name is [–] and I'm a constituent from [town/city], Oregon [zip code]. I am calling because . . .
Trump is blocking Congress from fulfilling its oversight role. This, by itself, was one of three items in Nixon's impeachment. I'm calling on Senator Merkley to:
Educate the people of our state so they understand Mueller's report and what Trump is doing to block Congress' legitimate and vital oversight role
Raise your voice by making speeches on the floor of the Senate, by writing op-eds, by sending letters to constituents, and by joining the rest of us in every effort to save our democracy
Call out Trump's lies that he uses to make it appear he has a legitimate objection to legal demands from Congress and the courts
Thank you."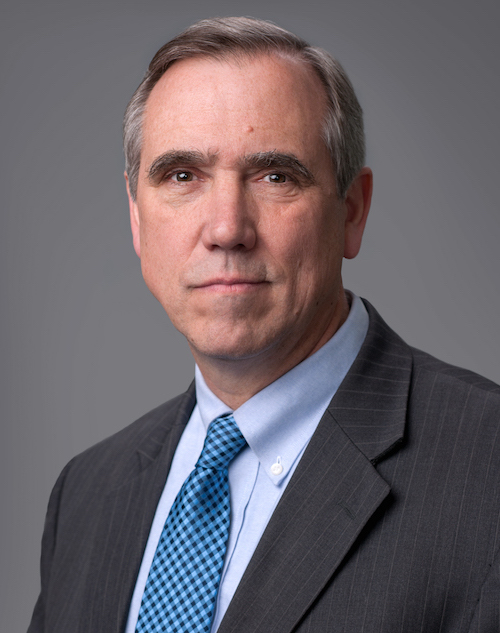 SENATOR JEFF MERKLEY
Portland: (503) 326-3386, DC: (202) 224-3753
Salem: (503) 362-8102, Eugene: (541) 465-6750
Medford: (541) 608-9102, Bend: (541) 318-1298
Pendleton: (541) 278-1129
https://www.merkley.senate.gov/contact/
---
The Atlantic, May 19, 2019: "What Pleases Trump Has the Force of Law"  https://www.theatlantic.com/ideas/archive/2019/05/trump-doesnt-care-about-constitution/589654/
Washington Post, May 31, 2019: "Justice Department does not comply with court order to release transcripts of Michael Flynn's conversations with Russian ambassador"https://www.washingtonpost.com/politics/justice-department-fails-to-comply-with-court-order-to-release-transcripts-of-michael-flynns-conversations-with-russian-ambassador/2019/05/31/9b4a6754-83b8-11e9-95a9-e2c830afe24f_story.html?utm_term=.5e6fedc5c8ea
Forbes magazine, May 19,2019: "How trump's cabinet now undermines the rule of law"  https://www.forbes.com/sites/stevedenning/2019/05/19/how-trumps-cabinet-now-undermines-the-rule-of-law/
New Yorker, May 10, 2019: "A Constitutional Scholar on the Purpose of Impeachment."https://www.newyorker.com/news/q-and-a/a-constitutional-scholar-on-the-purpose-of-impeachment
Congressional Research Service, January 2, 2001: "Congressional Oversight."https://www.senate.gov/artandhistory/history/resources/pdf/CRS.Oversight.pdf
https://ord2indivisible.org/wp-content/uploads/2019/06/Time-to-Impeach-1.png
225
450
CTA Team
https://ord2indivisible.org/wp-content/uploads/2017/06/ord2Logo-300x105.png
CTA Team
2019-06-04 06:51:37
2019-06-04 06:53:52
CALL TO ACTION #692: Another Attack on the Constitution Compels an Impeachment Inquiry (June 4, 2019)