Call to Action and Flash Rally: October 22, 2018
HAVE YOUR BALLOT? DON'T WAIT;

VOTE!
DAYS UNTIL BALLOTS DUE:
15

---
TRUMP'S MEDIA ATTACKS ENDANGER REPORTERS AND UNDERMINE TRUTH
---
A free and fair media is an essential part of our democracy, but Trump has vilified reporters as "dangerous and sick," a "stain on America" and, borrowing from Stalin, "the enemy of the people."
Last week, he openly endorsed violence against reporters at a rally when he praised Montana's Congressman for assaulting a reporter. Trump said that attack was "nothing to be embarrassed about."
The assassination of a Washington Post columnist (a Saudi critic) inside a Saudi Arabian consulate in Turkey hasn't drawn a flicker of outrage. In fact, Trump's allies are smearing the victim to deflect Trump's lack of interest in this human rights violation.
Trump's attacks on the media are the most dangerous aspect of his war on truth. For his devotees, his 5,000-plus lies fuel division and fear. The rest of us are becoming numb, which is a devaluation of truth.
Trump's attacks on truth are not mad delusions but a calculated effort to erode a keystone of democracy. The American experiment, the founding fathers believed, was designed to test whether people can be "governed by reason and truth."
Protect Our Free Press!
Speak Truth to Trump's Lies!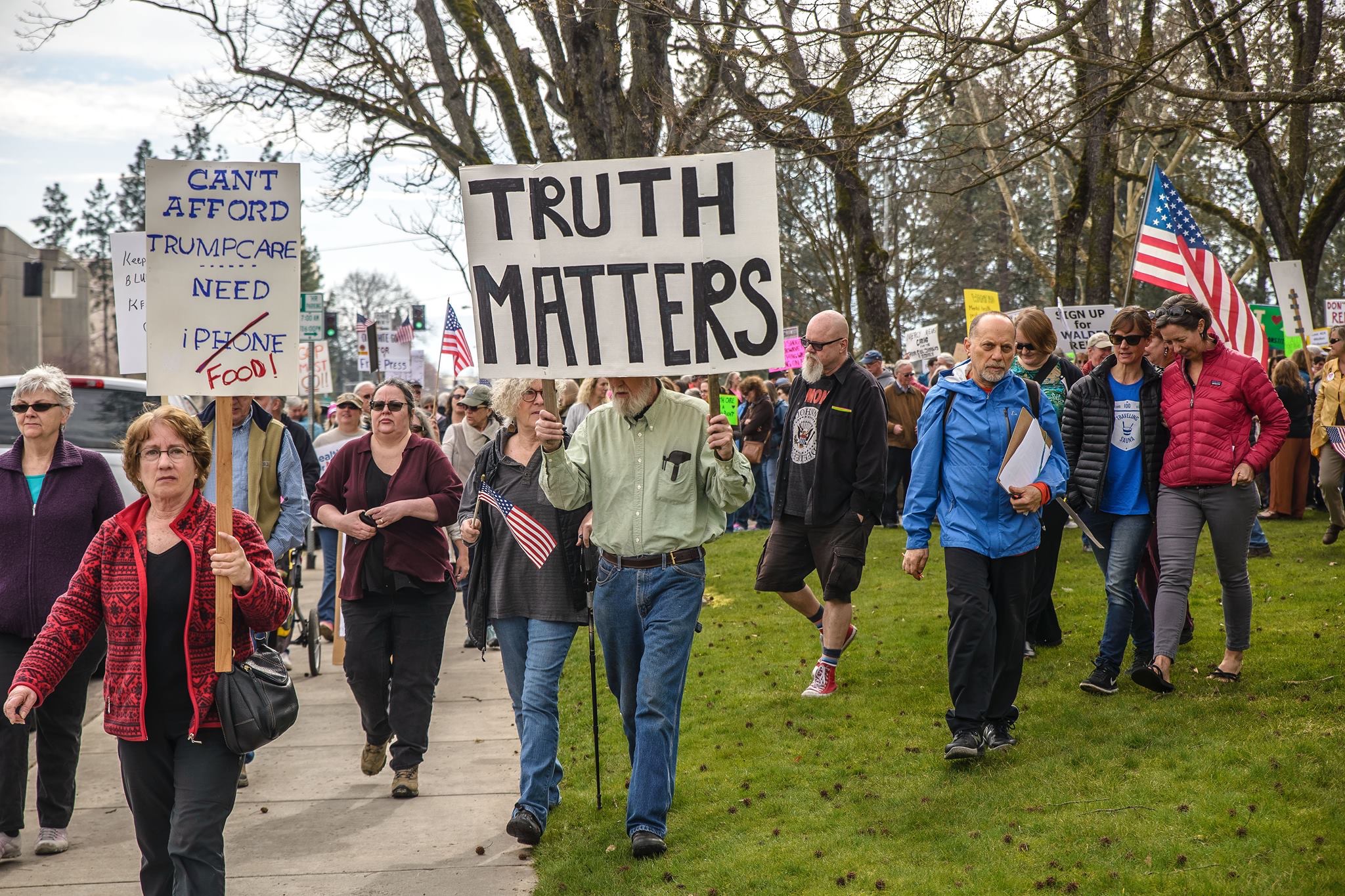 ---
**ACTION ONE:

CALL OUR SENATORS**
SAMPLE SCRIPT FOR SENATORS WYDEN AND MERKLEY:
"My name is [Name]. I am a constituent and voter living in ZIP code [number]. I am calling because we are losing the value of truth. Trump's lies, thousands of them, are an attack on our ability to discern the truth and find effective ways of dealing with America's challenges. We need Senator _____ to call out Trump's lies – EVERY LIE, EVERY DAY – and to demand the truth.  I'm also asking the Senator to hold Facebook, Twitter and other social media platforms accountable for the fake news they publish. Thank you."
Portland: (503) 326-7525, DC: (202) 224-5244
Salem: (503) 589-4555, Eugene: (541) 431-0229
Medford: (541) 858-5122, Bend: (541) 330-9142
La Grande: (541) 960-7691
https://www.wyden.senate.gov/contact/
SENATOR JEFF MERKLEY 
Portland: (503) 326-3386, DC: (202) 224-3753
Salem: (503) 362-8102, Eugene: (541) 465-6750
Medford: (541) 608-9102, Bend: (541) 318-1298
Pendleton: (541) 278-1129
https://www.merkley.senate.gov/contact/
---
**ACTION TWO:

CALL COMPLICIT GREG WALDEN**

SAMPLE SCRIPT FOR WALDEN:

"My name is [Name]. I am a constituent and voter living in ZIP code [number]. I am calling Greg Walden because we are losing the value of truth. Trump's lies, thousands of them, are an attack on our ability to discern the truth and find effective ways of dealing with America's challenges.  Since Mr. Walden is a loyal Trump soldier, I regret that he won't do what must be done to protect the Constitution and the American Experiment.  So, I will call out Greg's and Donald's lies; I will speak truth to power – EVERY LIE, EVERY DAY.  And I'm asking my patriotic Members of Congress to hold Facebook, Twitter and other social media platforms accountable for the fake news they publish."
COMPLICIT GREG WALDEN
DC (202) 225-6730, Medford: (541) 776-4646,
Bend (541) 389-4408, La Grande (541) 624-2400
https://walden.house.gov/contact-greg/email-me
---
**ACTION THREE: 

VOTE BLUE

DOWN THE ENTIRE BALLOT**
https://ord2indivisible.org/wp-content/uploads/2017/04/19-Alice-DiMicele.jpg
1050
1400
CTA Team
https://ord2indivisible.org/wp-content/uploads/2017/06/ord2Logo-300x105.png
CTA Team
2018-10-22 07:11:02
2018-10-22 07:19:40
Call to Action and Flash Rally: October 22, 2018