Call to Action: August 15, 2018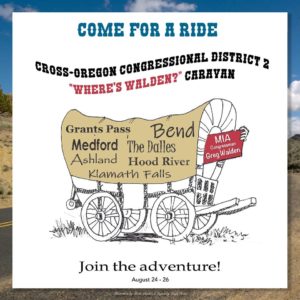 The last week of August will mark 500 days since Greg Walden has had a town hall anywhere in Oregon Congressional District 2. A lot of Indivisibles have gotten tired of his little secret meetings and have decided to do something about it.
If he won't bring a town hall to us, we've decided to take one to him.
On the weekend of Aug. 24-26, please join us for what we hope is the first and last cross-district "Where's Walden?" caravan.
Visit the Event Calendar on the ORD2 Indivisible website for additional details: https://ord2indivisible.org/calendar/
---
DAYS UNTIL MID-TERM BALLOTS WILL BE MAILED:
63
DAYS UNTIL MID-TERM BALLOTS ARE DUE:
83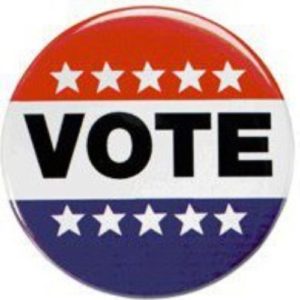 ---
TAKE A STAND AGAINST KAVANAUGH
BOYCOTT THE VOTE
---
Confirmation hearings on Brett Kavanaugh's nomination to the Supreme Court will begin on September 4, even though the documents relating to his work for the Bush II administration won't be released by then, if ever. The battle over access to Kavanaugh's complete record is no mere procedural scuffle. These documents "are critical to understanding his knowledge of and involvement with torture, warrantless wiretapping and the use of (presidential) signing statements, …" said Sen. Feinstein. They could also reveal whether Kavanaugh lied in 2006 when he testified he played no role in Bush's terrorism detainee policies.
Republicans are racing to confirm Kavanaugh by October 1 without this critical information, stonewalling Democrats' demands for the documents:
The National Archives can't produce the documents for months and won't provide documents without Senator Grassley's request
Documents are being cherry-picked by Kavanaugh's former deputy, a clear conflict of interest
Democrats have had to request documents through the Freedom of Information Act
Americans demand to know the whole truth about Kavanaugh. Democrats should not participate in Republicans' deeply compromised process to confirm this extreme nominee to a lifetime appointment. They should . . .
Boycott the Hearing and the Vote!
#NoDocumentsNoVote
---
**ACTION ONE:

CALL OUR SENATORS**
---
SAMPLE SCRIPT FOR MERKLEY AND WYDEN:
"My name is [–] and I'm a constituent and voter from [city], Oregon [zip code]. I am calling to thank the Senator for his continued opposition to the nomination of Brett Kavanaugh. The GOP steamroller must be stopped until Kavanaugh's complete record is made available. Please tell the Senator (i) to urge his Democratic colleagues on the Judiciary Committee to boycott the Kavanaugh hearings, (ii) to boycott any floor vote on Kavanaugh's nomination, and (iii) withhold unanimous consent on Senate business unless all documents are produced. Thank you."
SENATOR RON WYDEN 
Portland: (503) 326-7525, DC: (202) 224-5244
Salem: (503) 589-4555, Eugene: (541) 431-0229
Medford: (541) 858-5122, Bend: (541) 330-9142
La Grande: (541) 960-7691
https://www.wyden.senate.gov/contact/
SENATOR JEFF MERKLEY 
Portland: (503) 326-3386, DC: (202) 224-3753
Salem: (503) 362-8102, Eugene: (541) 465-6750
Medford: (541) 608-9102, Bend: (541) 318-1298
Pendleton: (541) 278-1129
https://www.merkley.senate.gov/contact/
---
**ACTION TWO:

WORK TO FLIP THE SENATE IN THE MIDTERMS**
---
**ACTION THREE:

  KEEP WORKING TOWARD THE MIDTERMS!**
---
To save voting rights, we need to:
Make sure you and everyone you know is registered to vote: iwillvote.com
Do what you can to support Jamie McLeod-Skinner as she continues with her campaign to replace Walden in Oregon District 2's seat in the U.S. House of Representatives! https://jamiefororegon.com/ 
Make a plan for the last weekend of midterms: thelastweekend.org
https://ord2indivisible.org/wp-content/uploads/2017/04/20-Dasja-Dolan-1.jpg
932
1400
CTA Team
https://ord2indivisible.org/wp-content/uploads/2017/06/ord2Logo-300x105.png
CTA Team
2018-08-15 06:58:51
2018-08-15 06:58:51
Call to Action: August 15, 2018