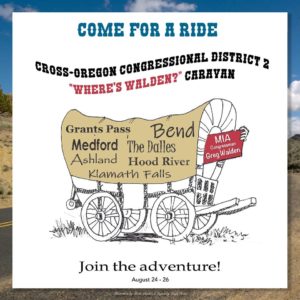 The last week of August will mark 500 days since Greg Walden has had a town hall anywhere in Oregon Congressional District 2. A lot of Indivisibles have gotten tired of his little secret meetings and have decided to do something about it.
If he won't bring a town hall to us, we've decided to take one to him.
On the weekend of Aug. 24-26, please join us for what we hope is the first and last cross-district "Where's Walden?" caravan.
Your ORD2 steering committee is working hard to finalize the details for next week's caravan. We are in process of working with other Indivisible groups to confirm exact times and locations. But here is the rough schedule so far:
FRIDAY, Aug. 24, 10-ish, participants meet in Grants Pass and Ashland; 11 a.m. – those two groups merge at the Armory in Medford (1701 S Pacific Hwy, Medford); group motors to Klamath Falls, arriving 2-ish, then ends the day in Bend at 6 p.m.-ish.
SATURDAY: kicks off with a rally in Bend; the caravan motors to The Dalles, then on to Hood River, arriving around 4 p.m., for a rally there.
You can drive or ride along for any or all of the route, or just meet us at one of the locations to help us tell Greg Walden that we're tired of not having town halls, so we're taking our questions and concerns to him.
Participants are encouraged to carpool and are responsible for their own food and overnight accommodations. Some Indivisible members are offering spare rooms or camping places. We have made awesome Where's Walden t-shirts and signs for the event and encourage everyone to dress up their cars with windshield paint and blue ribbons.
Visit the Event Calendar on the ORD2 Indivisible website for additional details: https://ord2indivisible.org/calendar/
---
DAYS UNTIL MID-TERM BALLOTS WILL BE MAILED:
62
DAYS UNTIL MID-TERM BALLOTS ARE DUE:
82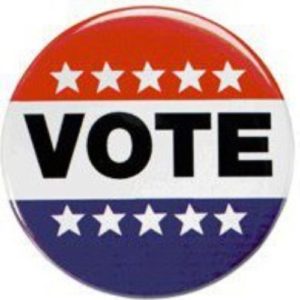 ---
STAND UP FOR VOTING RIGHTS
STOP KAVANAUGH
---
Last week marked the 53rd anniversary of the Voting Rights Act, which outlawed literacy tests and established federal oversight over voter registration in jurisdictions having a clear history of racial discrimination.  These jurisdictions were prohibited from changing their voting laws without obtaining "preclearance" from federal authorities. Although these protections enjoyed widespread Congressional support, in 2013 the Supreme Court gutted the preclearance provision, stating that it was "based on 40-year-old facts having no logical relationship to the present day."
Relying on that decision, states have passed voter ID laws, closed precincts and purged voter rolls. Federal courts and the Justice Department used to be bulwarks against states seeking to restrict voting, but no more.
Instead, Trump pushed all states to purge their voter rolls when he demanded that a picture ID be required to vote (incredibly asserting that an ID is required to buy groceries).
AND HERE COMES KAVANAUGH, who as a circuit judge has supported states' narrowing of voting rights. He would be the FIFTH VOTE needed to cement the assault on voting rights.
Slow the Assault on Voting Rights! 
Stop Kavanaugh!
---
**ACTION ONE:
CALL OUR SENATORS**
SAMPLE SCRIPT FOR MERKLEY AND WYDEN:
"My name is [Name]. I am a constituent and voter, and I and live in [-], Oregon ZIP code [number]. I am calling because I am deeply concerned about barriers to voting and am convinced that Kavanaugh will be another vote on the Supreme Court that would erode our right to exercise the franchise. I want to thank Senator __________ for opposing Kavanaugh.  I ask that he do everything possible to release Kavanaugh's records and defeat his nomination. Thank you."
SENATOR RON WYDEN 
Portland: (503) 326-7525, DC: (202) 224-5244
Salem: (503) 589-4555, Eugene: (541) 431-0229
Medford: (541) 858-5122, Bend: (541) 330-9142
La Grande: (541) 960-7691
https://www.wyden.senate.gov/contact/
SENATOR JEFF MERKLEY 
Portland: (503) 326-3386, DC: (202) 224-3753
Salem: (503) 362-8102, Eugene: (541) 465-6750
Medford: (541) 608-9102, Bend: (541) 318-1298
Pendleton: (541) 278-1129
https://www.merkley.senate.gov/contact/
---
**ACTION TWO:

WORK TO FLIP THE CONGRESS IN THE MIDTERMS**
---
**ACTION THREE:

  DON'T FORGET COMPLICIT GREG WALDEN!**
---
Please take action against Greg Walden every single day even when these Calls to Action focus on other issues. By now, we're sure you have some pet peeves you'd like to share with him through his office workers. Pick one or two and make that call!
Do what you can to support Jamie McLeod-Skinner as she continues with her campaign to replace Walden in Oregon District 2's seat in the U.S. House of Representatives! https://jamiefororegon.com/ 
https://ord2indivisible.org/wp-content/uploads/2017/03/United-Flag-e1507510628472.jpeg
222
600
CTA Team
https://ord2indivisible.org/wp-content/uploads/2017/06/ord2Logo-300x105.png
CTA Team
2018-08-16 07:06:03
2018-08-16 07:06:03
Call to Action: August 16, 2018