332 Days
Until the 2020 Election
---
IMPEACH AND REMOVE 
ATTORNEY GENERAL BARR 

 
---
Since being confirmed, Barr has been acting as Trump's "fixer" and eroding the Department of Justice's (DOJ) independence. He:
is more interested in protecting Trump's exaggerated view of executive power than upholding rule of law
has weaponized the DOJ to go after Trump's enemies
has destroyed the Mueller report in eyes of the public, giving Trump a green light to shake down Ukraine in order to smear his political rival
lied to Congress about the DOJ spying on Trump's 2016 campaign and has pursued discredited conspiracy theories
pressured foreign officials to discredit the Mueller probe
tried to bury the whistleblower complaint
refused to recuse self from the Ukraine matter
asserted "absolute immunity" to prevent the production of witnesses and documents Congress demanded
improperly joined a lawsuit to shield Trump's tax returns from New York State
misrepresented facts in the census case
repeated allegations that Christians are in a "holy war" with the secular left
threatened minority communities with less police protection if they complained about police misconduct
Barr has violated his oath to uphold the Constitution and betrayed the trust of the American people by turning the DOJ into a shield for the Trump regime's misconduct. Like Trump, Barr must be removed from office before he can further undermine both the rule of law and the integrity of the 2020 election.
Save Our Democracy!
Attack Corruption!
Impeach and Remove Bill Barr!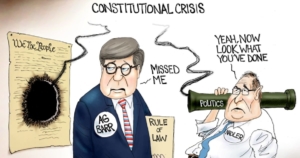 ---
**ACTION ONE: CALL OUR SENATORS**
https://ord2indivisible.org/wp-content/uploads/2019/12/barr-hand-up.jpeg
179
318
CTA Team
https://ord2indivisible.org/wp-content/uploads/2017/06/ord2Logo-300x105.png
CTA Team
2019-12-06 07:21:40
2019-12-06 07:21:40
CALL TO ACTION #817: Impeach and Remove Attorney General Barr (December 6, 2019)