BALLOTS ARE

IN THE MAIL!
DAYS UNTIL BALLOTS DUE:
19

---
PROTECT VOTING RIGHTS
FIGHT VOTER SUPPRESSION
---
In less than 3 weeks, Americans will participate in one of most consequential elections of our time. While voting is fundamental to democracy, trust in "one-person-one-vote" been compromised by the Electoral College system, extreme gerrymandering to dilute Democrats' influence, felon disenfranchisement, and widespread voter suppression. Fueled by conservative Supreme Court rulings, GOP politics, and Trump's unsubstantiated claims of voter fraud, voting is becoming more of a privilege than a constitutional right.
Voter suppression—preventing citizens from casting ballots—has greatly increased since Obama's presidency and the Supreme Court's 2013 gutting of Voting Rights Act. Republicans' strategy for retaining power in our increasingly non-white nation has not been through broad-based appeals but by curtailing citizens' ability to vote—voter ID laws, voter roll purges, early voting cutbacks, polling station closures. Without these, Texas, Ohio, Florida, North Carolina, and Georgia would likely be Democratic-led today.
To reverse the GOP's voter suppression, we must first elect a new Congress. Then, we must pressure Congress to:
Pass new Voting Rights Act (S.1419/HR.3239), making all states/jurisdictions eligible for preclearance based on voting violations in the last 15 years
Promote voter turnout—voting by mail, automatic voter registration, same-day registration, weekend polling sites, Election Day holiday, voting rights restoration
Of The People!
By The People!
For the People!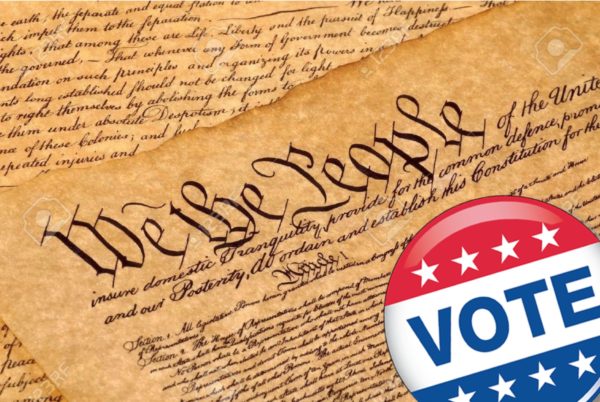 ---
**ACTION ONE:

COMMIT TO GETTING 30 OF YOUR FRIENDS TO VOTE BECAUSE VOTING IS PRECIOUS**
Contact at least 30 of your friends in Oregon and around the country:
Make sure that they are registered to vote (iwillvote.com)
Tell them about your priority of changing Congress to thwart Trump and investigate his wrongdoings
Explain what you have been doing to change Congress in November, both in Oregon and elsewhere
Discuss with them the many ways in which they can get involved
Explain why it is important to you for them both to vote and to work for change
---
**ACTION TWO:

CALL OUR SENATORS**
SAMPLE SCRIPT FOR SENATORS WYDEN AND MERKLEY:
"My name is [–] and I'm a constituent AND VOTER from [city], Oregon [ZIP code]. I am calling because I am deeply concerned about the voter suppression that disenfranchises communities of color, the economically disadvantaged, young people and seniors, convicted felons, and Americans with disabilities. Please thank the Senator for cosponsoring [S 1419] (the Voting Rights Advancement Act), which empowers DOJ to scrutinize all states/jurisdictions that have committed five voting violations in last fifteen years, and urge him to push for its speedy passage when Congress is back in session. I also want him to work to pass the Voter Empowerment Act [S 1437] and Same Day Registration [S 360], which will promote voter turnout and ensure equal access to the ballot box. Thank you."
Portland: (503) 326-7525, DC: (202) 224-5244
Salem: (503) 589-4555, Eugene: (541) 431-0229
Medford: (541) 858-5122, Bend: (541) 330-9142
La Grande: (541) 960-7691
https://www.wyden.senate.gov/contact/
SENATOR JEFF MERKLEY 
Portland: (503) 326-3386, DC: (202) 224-3753
Salem: (503) 362-8102, Eugene: (541) 465-6750
Medford: (541) 608-9102, Bend: (541) 318-1298
Pendleton: (541) 278-1129
https://www.merkley.senate.gov/contact/
---
**ACTION THREE:

CALL COMPLICIT GREG WALDEN**

SAMPLE SCRIPT FOR WALDEN:

"My name is [–] and I'm a constituent AND VOTER from [city], Oregon [ZIP code]. I am calling because I am deeply concerned about the voter suppression that disenfranchises communities of color, the economically disadvantaged, young people and seniors, convicted felons, and Americans with disabilities. I ask Greg Walden to transcend party lines and co-sponsor the Voting Rights Amendment Act [HR 3239], the Voter Empowerment Act [HR 12], and Same Day Registration [HR 1044] when Congress is back in session. Oregon successfully uses paper ballots and is a model for fair elections. Please ask Mr. Walden to be a leader, stand up for equal access to voting, and work with his Republican colleagues to ensure passage of all three laws. Thank you."

COMPLICIT GREG WALDEN
DC (202) 225-6730, Medford: (541) 776-4646,
Bend (541) 389-4408, La Grande (541) 624-2400
https://walden.house.gov/contact-greg/email-me
---
**ACTION FOUR: 

VOTE BLUE

DOWN THE ENTIRE BALLOT**
https://ord2indivisible.org/wp-content/uploads/2018/10/Vote-Like-Your-Rights-Depend-On-It-e1539179169678.jpg
168
219
CTA Team
https://ord2indivisible.org/wp-content/uploads/2017/06/ord2Logo-300x105.png
CTA Team
2018-10-18 06:54:49
2018-10-18 06:54:49
Call to Action: October 18, 2018