CALL TO ACTION #880: Support Senator Wyden's National Vote-by-Mail Legislation (March 17, 2020)

231
Days
Until the November 3rd Election
---
Special Note:
The ORD2 Indivisible Steering Committee has begun actively forming a COVID-19 Action Team to aid any of our group who are isolated because they have been exposed to the virus. We know of at least one member in this situation who lives alone.  If you'd like to join this team please send your contact information (including telephone/text number) to .
If you have been advised to quarantine yourself and need help getting food, household supplies, medications, etc.  please email us so we can assist, . For anything that we purchase on your behalf, we will provide you with receipts for reimbursement as our volunteers are not in a position to pay for your items. Please let us know if we can help!
---
SUPPORT SENATOR WYDEN'S NATIONAL VOTE-BY-MAIL LEGISLATION
---
We are grateful that here in Oregon we don't have to choose between our health and our right to vote. As progressives, we want to help everyone vote by extending our good fortune to the entire country.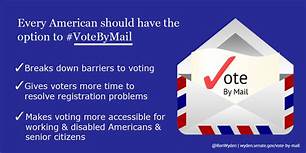 Republicans have used their power to suppress voting because historical data indicate that they are more likely to win when fewer people vote. Unsurprisingly, their voter suppression efforts are often targeted at people who are more likely to vote for Democrats — lower income, African American, Latinx, and young voters.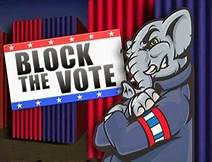 We are concerned that Trump and his GOP could use COVID-19 as an excuse to postpone or cancel the November election and remain in power. Although the Constitution and federal law protect us, we've seen Trump repeatedly violate both while his Republican party – including Greg Walden – refuses to hold him accountable.
By passing Senator Wyden's national vote-by-mail legislation, we can stop Trump from using the pandemic as an excuse to tamper with the November election. We must work together to ensure the bill passes quickly.
Together, we can protect the vote without risking anyone's health.
---
**ACTION ONE:

CALL OUR U.S. SENATORS

**

SAMPLE SCRIPTS FOR SENATORS MERKLEY AND WYDEN:

"My name is [–] and I'm a constituent from [town/city], Oregon [zip code]. I am calling today . . .

Senator Wyden: Because I want to thank Senator Wyden for introducing legislation to give everyone the option to vote-by-mail. I appreciate his efforts to protect both the security of our votes and our health. Please ask him to keep pushing to pass his bill in time for the November elections.

Senator Merkley:  Because Senator Wyden's bill would create national vote-by-mail, as we have here in Oregon, and I want Senator Merkley to get very vocal about that. Voting by mail protects us from having to choose between voting and risking our health or that of others. I urge the Senator to co-sponsor this legislation and use every tool at his disposal to ensure it passes in time for the November election.

Thank you."
---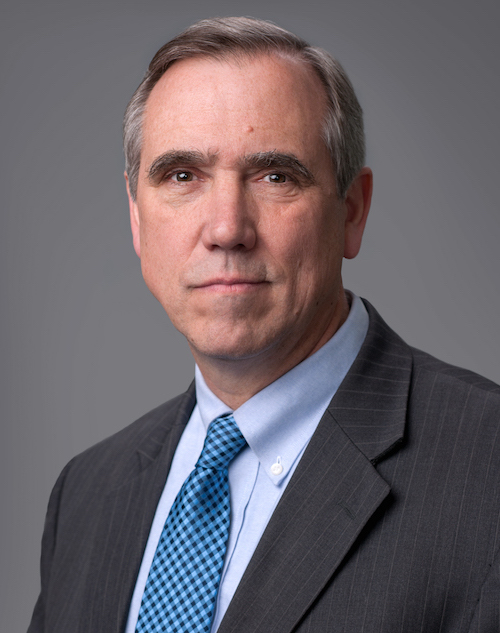 SENATOR JEFF MERKLEY
Portland: (503) 326-3386, DC: (202) 224-3753
Salem: (503) 362-8102, Eugene: (541) 465-6750
Medford: (541) 608-9102, Bend: (541) 318-1298
Pendleton: (541) 278-1129
https://www.merkley.senate.gov/contact/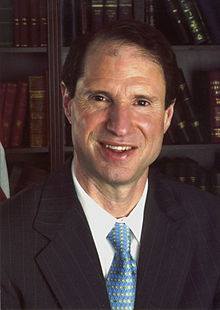 SENATOR RON WYDEN
Portland: (503) 326-7525, DC: (202) 224-5244
Salem: (503) 589-4555, Eugene: (541) 431-0229
Medford: (541) 858-5122, Bend: (541) 330-9142
La Grande: (541) 960-7691
https://www.wyden.senate.gov/contact/
---
**ACTION TWO:

CALL COMPLICIT GREG WALDEN**
SAMPLE SCRIPT FOR WALDEN:
"My name is [–] and I'm a constituent from [town/city], Oregon [zip code]. I am calling today . . .
Because, as Greg Walden's constituent, I demand that he support the House version of Senator Wyden's national vote-by-mail legislation. No one should have to choose between their health and their right to vote. It is unconscionable to hold the right to vote hostage to party loyalty.
Thank you."
---
**ACTION THREE:

BE AN ACTIVIST

**

Most upcoming events, including all ORD2 Indivisible sponsored events, are being canceled at this time in order to minimize public gatherings. We anticipate rescheduling several events in the near future and will provide updates in the daily Call to Action and on the ORD2 Indivisible website event calendar.
Visit the ORD2 Indivisible Event Calendar on a regular basis to keep updated on local activities. Participate with us as often as you can. We also encourage you to submit events to be added to the ORD2 Indivisible Event Calendar and help us keep current with our event postings. https://ord2indivisible.org/submit-your-event/
Let the Coronavirus NOT stop you from being an activist – keep your social distance and join our ORD2 Indivisible Virtual Postcard Party!

If you live in Medford, Jacksonville, Phoenix, Talent or Ashland, we'll deliver to your doorstep a pack(s) with 25 stamped postcards and stickers to write for a campaign through https://postcardstovoters.org/
Email:
, if you want to participate. Please provide your name, phone number and the location you would like to

have the cards delivered to. Also, indicate the number of starter packets you wish to order.
We ask you to leave a donation of $10 per packet to cover the cost of supplies and postage in an envelope by your front door. We'll drop off a packet(s) with everything you need to write from home.
Simply join postcardstovoters.org online. Once you get your packet of cards from us, write your cards and mail them from home.
We'll start delivering packets on Tuesday.
Extra donations for ORD2 Indivisible are welcome.
---
ORD2 Indivisible 2020 Fundraising Campaign
As we approach what will be the most important election of our lifetimes, ORD2 Indivisible wants to be in a secure financial position to help engage as many voters in our district in the election process as possible. To accomplish this goal we are conducting the ORD2 Indivisible 2020 fundraising campaign. Click on the image below to donate.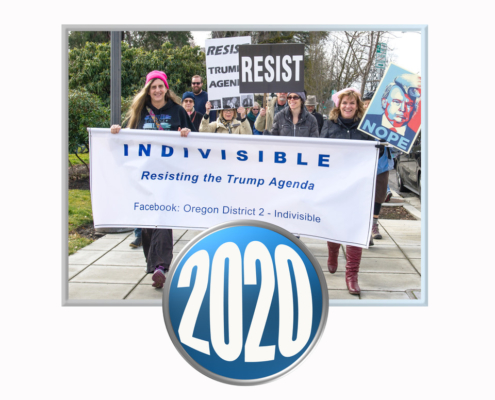 To make a donation by check, please make the check payable to ORD2 Indivisible and mail to:
ORD2 Indivisible
P.O. Box 1242, Phoenix, OR 97535
---
ORD2 Indivisible is partnering with Jobs With Justice Southern Oregon and Washington Federal Bank to gather warm adult clothing for the homeless. We are also asking for tarps, throw blankets and sleeping bags.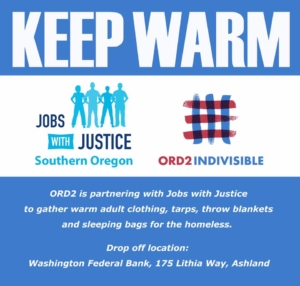 Please donate generously!
---
https://ord2indivisible.org/wp-content/uploads/2020/03/vote-by-mail-boxes.jpeg
153
391
CTA Team
https://ord2indivisible.org/wp-content/uploads/2017/06/ord2Logo-300x105.png
CTA Team
2020-03-17 09:59:16
2020-03-17 17:08:42
CALL TO ACTION #880: Support Senator Wyden's National Vote-by-Mail Legislation (March 17, 2020)