Oregon Legislation CALL TO ACTION: Support Oregon SB1530 to Combat Climate Change; There is No Planet B! (February 9, 2020)

The Oregon State Legislature is now one week into its biennial "short session," scheduled to end Sunday, March 8th. Today and for the next three Sundays we will be publishing a Call to Action (CTA) focused on bills that we think our progressive Indivisibles will find important.
Please join our advocacy effort by calling and otherwise contacting your house representatives and senators in Salem. ORD2 Indivisible's mission includes working for progressive change at every level of government. What happens in Salem effects every Oregonian.
Our voices are especially important this week since opposition to SB 1530 is coming from Republican legislators. We need Republicans to stay in Salem to DO THEIR JOBS so that the legislature can pass a climate bill that will safeguard the futures of all Oregonians.
Let's make a difference! 
---
SUPPORT Oregon SB 1530 to
Combat Climate Change.
There is No Planet B!
---
Last year, Oregon's climate bill designed to bring down the emission of greenhouse gasses and prevent climate catastrophe by creating a cap and trade market for CO2 emissions was derailed by the last-minute GOP senator walkout. The legislature is considering a new bill during the current "short session." SB 1530 includes a cap and trade market as well as additional measures to reduce the bill's economic impact on Oregon's rural areas.
We have all seen the effects of climate change – more frequent and severe wildfires, stressed forests, shrinking snow packs and mountain glaciers, the recent severe flooding in NE Oregon.
Time is of the Essence!
Please Join the Battle to Combat Climate Change!
We have ONE MONTH to get this bill passed!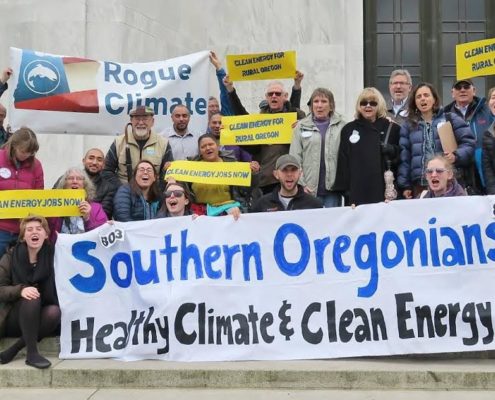 https://ord2indivisible.org/wp-content/uploads/2020/02/Climate-act-now.jpeg
173
260
CTA Team
https://ord2indivisible.org/wp-content/uploads/2017/06/ord2Logo-300x105.png
CTA Team
2020-02-09 15:55:59
2020-02-09 15:55:59
Oregon Legislation CALL TO ACTION: Support Oregon SB1530 to Combat Climate Change; There is No Planet B! (February 9, 2020)