CALL TO ACTION #807: Get Truth from Sondland; Protect Whistleblower (November 20, 2019)

348 Days
Until the 2020 Election
---
GET TRUTH FROM SONDLAND
AND
PROTECT 

WHISTLEBLOWER

 
---
Trump appointed EU Ambassador Gordon Sondland is testifying today in open session before the House Intelligence Committee regarding a whistleblower's allegations that Trump abused the power of his office to solicit Ukraine's interference in the 2020 election, thereby undermining our national security.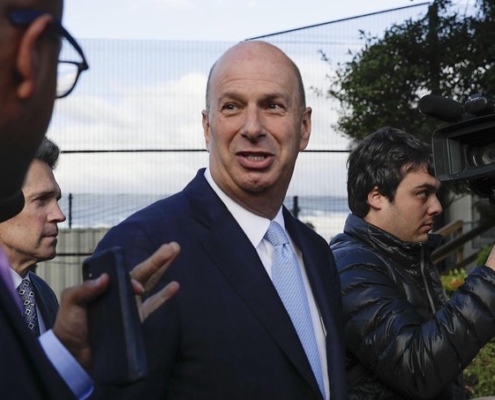 Sondland played a significant role in convincing Ukraine's President that a White House visit and release of approved military assistance would require his agreement to dig up dirt against the Bidens for use in Trump's 2020 reelection campaign.  
Sondland's prior secret testimony and his revised statement were evasive, internally inconsistent and contradicted other witness statements—suggesting he might have perjured himself attempting to protect Trump. 
To avoid an outcome like Roger Stone's conviction in federal court for lying to Congress, Sondland will need to do his patriotic duty and be totally forthcoming in his testimony about Trump's wishes and how he carried them out. 
With no plausible counter-narrative, Trump, his congressional enablers and TV cronies have maligned the whistleblower, demanding his or her "outing" in violation of the federal statute that protects confidentiality.
Given the Trump team's ongoing harassment, slandering and outright witness tampering of the patriots who've come forward to testify, future whistleblower complaints of illegal or unethical government conduct will likely be suppressed if the current whistleblower's identity is compromised in any way.  
Our Members of Congress must:  
Ensure

Sondland

understands the need for complete truthfulness

 

Support

and st

r

engthen

 whistleblower confidentiality

 

Convince Senators to

be

impartial jurors in a fair, open impeachment trial

. 

 
Demand Truth, Whole Truth, Nothing But Truth from Sondland!
Protect the Whistleblower!
---
**ACTION ONE: CALL OUR SENATORS**
https://ord2indivisible.org/wp-content/uploads/2019/11/another-sondland-and-trump.jpeg
453
680
CTA Team
https://ord2indivisible.org/wp-content/uploads/2017/06/ord2Logo-300x105.png
CTA Team
2019-11-20 07:12:50
2019-11-20 07:20:34
CALL TO ACTION #807: Get Truth from Sondland; Protect Whistleblower (November 20, 2019)