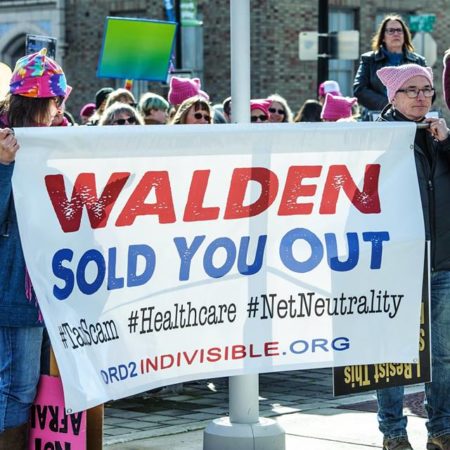 ---
HOUSE MUST VOTE TO PROTECT DREAMERS & NET NEUTRALITY
---
The House is back in session, and leadership is facing a revolt on two fronts needing immediate attention—Dreamers and Net Neutrality—exposing schisms within the GOP brought on by midterm elections.
The GOP is careening towards an immigration showdown. All but one Democrat supports the discharge petition forcing a vote on DACA. Paul Ryan has floated a compromise but GOP dissidents are ready to force a floor vote. Under "queen of the hill" procedures, four bills are to be considered, with a bipartisan one providing a pathway to citizenship likely to pass.
A discharge petition to overturn net neutrality repeal has also been filed, but time is running out. Unless the House passes the Resolution of Disapproval today and Trump signs it Monday, the FCC rule repealing net neutrality goes into effect.
All Oregon MoCs except GREG WALDEN have signed both petitions.
Walden Sold Us Out on Net Neutrality!
#FireWalden
---
**ACTION ONE:

CALL COMPLICIT GREG WALDEN**
SAMPLE SCRIPT:
"My name is [–] and I'm a constituent and voter from [city], Oregon [zip code]. I am very concerned about two time-sensitive issues that are of great importance to Greg Walden's constituents—the fate of DREAMers and net neutrality. I am asking Mr. Walden to sign the DREAMers discharge petition so the House can finally vote to protect them from deportation.  Also, despite receiving more in contributions from the telecom industry over the last 28 years than any other House member, Mr. Walden should put the needs of his constituents first and vote to restore net neutrality. His seat in the House is not as secure as he thinks it is—the November reckoning approaches. Thank you."
---
**ACTION TWO:

HELP US BUILD THE

BLUE WAVE**
We have choices to make this fall. Do we want our representatives in Congress to refuse to move on legislation that is opposed by the White House or Speaker Ryan? Are we content for our legislators to ignore issues that are important to us, such as Providing DREAMers with a pathway to citizenship so they can stop living in fear? Protecting net neutrality and equal access for all to the internet?
If the answer is no, then join us in supporting candidates who are prepared to work for the issues that are important to their constituents. Before you cast your vote, be sure you understand the candidate's position on these critical issues. Check Jamie McCleod-Skinner's website to see why we endorse her to be ORD2's next US House Representative! #FireWalden!
The 2018 elections will be the most important of our lives.
#VoteBlue
/
by CTA Team
https://ord2indivisible.org/wp-content/uploads/2018/01/WM-2018-GW-sold-out.jpg
640
960
CTA Team
https://ord2indivisible.org/wp-content/uploads/2017/06/ord2Logo-300x105.png
CTA Team
2018-06-08 06:45:18
2018-06-08 06:45:18
Call to Action: June 8, 2018