CALL TO ACTION #1051: Defend Constitution and Government Institutions from Trump (November 16, 2020)
50

 Days until the Senate Runoff Election in Georgia!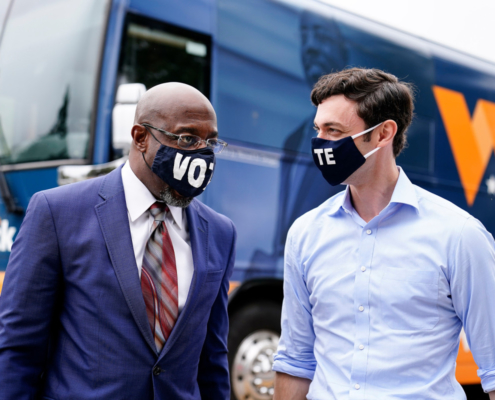 (Raphael Warnock and Jon Ossof)
See

Action Three

below for ways to HELP!
---
***Today's Call To Action***
Defend Constitution and Government Institutions from Trump
---
We depend on government to keep us safe. We are especially vulnerable during presidential transitions, relying on out-going administrations to make them as smooth as possible. Trump has sabotaged the current transition, undermining national security institutions and blocking President-Elect Biden's access to critical resources. He has created chaos at DOD, FBI, CIA, USAID, DHS by replacing experienced officials with politically reliable sycophants.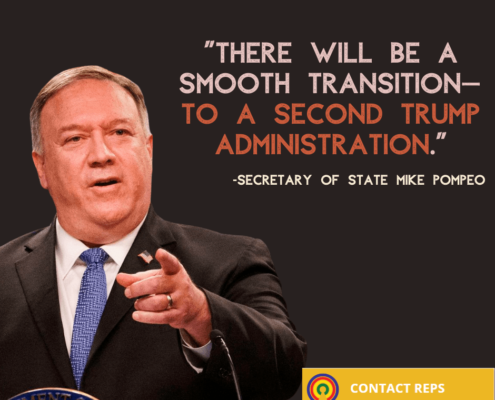 From the beginning, Trump has weakened our institutions. He and his enablers have targeted civil service protections, federal prosecutors, USPS, cybersecurity professionals, immigration judges, and the CDC. Trump's war on our government, and thus on us, has accelerated as his time in office draws to a close. 
Evidently, the "Deep State" Trump loathes is government's essential servicesupon which Americans rely. Government agencies warn us of deadly storms, protect our food and environment, deliver essential mail, provide reliable pandemic information, prevent attacks from hostile actors, and enforce our laws.
We The People built these institutions to

"provide for the common defense, promote the general welfare, and secure the Blessings of Liberty to ourselves and our Posterity."
Our leaders in the House and Senate swore this oath of office, which includes supporting and defending the Constitution against domestic enemies like Trump.

Tell Congress to Defend Our Constitution and Government Institutions!
---
**ACTION ONE:

CALL OUR U.S. SENATORS

**

SAMPLE SCRIPT FOR SENATOR MERKLEY AND WYDEN:

"My name is [–] and I'm a constituent from [city], Oregon [zip code]. 

Trump is risking our security by gutting national security leadership. Our security is not a toy for Trump to break before he leaves office. I ask the Senator to shore up our security structures by:
Publicly condemning the President's bizarre, destabilizing actions.
Introducing legislation to stop future presidents from undermining their successors with political appointments during the lame duck period.
Calling for immediate hearings on the contemptible and irresponsible attempts by GSA Administrator Murphy to interfere with the orderly transfer of power required by the Presidential Transition Act.
Thank you."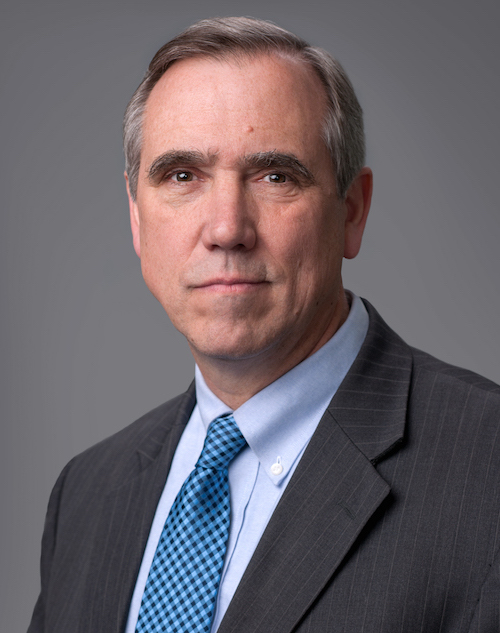 SENATOR JEFF MERKLEY
Portland: (503) 326-3386, DC: (202) 224-3753
Salem: (503) 362-8102, Eugene: (541) 465-6750
Medford: (541) 608-9102, Bend: (541) 318-1298
Pendleton: (541) 278-1129
https://www.merkley.senate.gov/contact/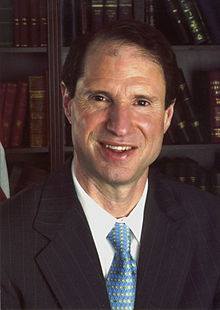 SENATOR RON WYDEN
Portland: (503) 326-7525, DC: (202) 224-5244
Salem: (503) 589-4555, Eugene: (541) 431-0229
Medford: (541) 858-5122, Bend: (541) 330-9142
La Grande: (541) 960-7691
https://www.wyden.senate.gov/contact/
---
**ACTION TWO:

CALL COMPLICIT GREG WALDEN**
SAMPLE SCRIPT FOR WALDEN:
"My name is [–] and I'm a constituent from [town/city], Oregon [zip code]. 
There isn't much left to say; Greg Walden has clearly betrayed his oath of office, mistaking his political party for the America of We The People. He should be ashamed for allowing Trump to ransack our government institutions.
This is a betrayal of the highest order; history will not be kind.
Thank you."
---
**ACTION THREE:

BE AN ACTIVIST

**

ONGOING:  Two US Senators, Jon Ossoff and Raphael Warnock, have runoff elections coming up in Georgia, and we could wrest the power of the majority from Mitch McConnell if they win – a very good thing indeed. If you want to get involved in that effort, here are a couple of easy ways to do that…
November 16, 12:30 p.m. – 1:00 p.m.
Ongoing every Monday, Wednesday and Friday
#MyORHealth  Support is available for Oregon's "helpers"
Lines for Life has created a Virtual Wellness Room to offer support to helpers, mental health professionals, first responders, social workers and anyone considered an essential worker during the COVID-19 pandemic in Oregon. Each check-in call will have a facilitator to guide the conversation.
"We at Lines for Life want to thank you for all the work you do to keep our communities safe," the organization said. "We are offering a place for helpers to exchange stories of hope and areas of need. We especially want to hear what things are coming up for you personally and explore how we can cheer one another on to continue the good work you are already doing. We ultimately want to create space to breathe out stress and breathe in hope."
The meetings are held using Zoom conference calls from 12:30 p.m. to 1 p.m. every Monday, Wednesday and Friday at this link: https://zoom.us/j/4848426773.  Please share this invite with anyone in your network of Oregon helpers.
https://ord2indivisible.org/wp-content/uploads/2020/07/stop-trump.jpg
337
460
CTA Team
https://ord2indivisible.org/wp-content/uploads/2017/06/ord2Logo-300x105.png
CTA Team
2020-11-16 06:59:37
2020-11-16 06:59:37
CALL TO ACTION #1051: Defend Constitution and Government Institutions from Trump (November 16, 2020)