CALL TO ACTION #857: Congress Must Protect Our Safety Net (February 13, 2020)

264 Days
Until the November 3rd Election
---
CONGRESS MUST PROTECT OUR SAFETY NET
---
(Background — Throwback Thursdays actions shift the focus from the Trump outrage of the moment and remind us that the brutality imposed by his policies is ongoing daily.)
Trump's 2021 budget, like every previous one,  includes funding cuts that would strangle vital safety net programs.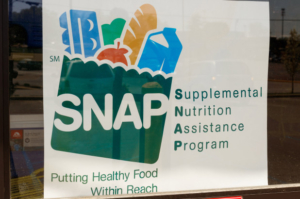 His proposal would slash $182 billion from the Supplemental Nutrition Assistance Program, or SNAP, over the next 10 years. It would gut many other programs assisting children, elderly and lower income Americans. When attempted budget cuts fail, Trump uses policy changes.  These are designed to restrict access to programs and add paperwork requirements to drop eligible recipients.
New more restrictive work requirements designed to limit access to SNAP go into effect April 1st.  It's expected that 700,000 people will be cut, and food banks are bracing for a sharp increase in people facing food insecurity.
Trump has never stopped trying to gut the Affordable Care Act. He now plans to convert Medicaid funds to block grants to states. As long as Trump is in power, our safety net is in danger.  Congress must protect it.
Tell Congress to Protect Our Safety Net!
Stop Trump's Attack on Americans!
https://ord2indivisible.org/wp-content/uploads/2020/02/hands-off.jpeg
166
295
CTA Team
https://ord2indivisible.org/wp-content/uploads/2017/06/ord2Logo-300x105.png
CTA Team
2020-02-13 06:45:47
2020-02-13 06:45:47
CALL TO ACTION #857: Congress Must Protect Our Safety Net (February 13, 2020)