CALL TO ACTION #858: It's Time to Take Back Our Democracy (February 14, 2020)

263 Days
Until the November 3rd Election
---
IT'S TIME TO TAKE BACK OUR DEMOCRACY 
---
The fabric of our society is being shredded and our Constitution lies in tatters. The GOP's refusal to impeach Trump has emboldened him to go after his enemies and make America a banana republic. 
All is not lost, however, since we can restore our democracy—by flipping the Senate, defending the House, taking back the Presidency, and winning state-level races to control 2021's redistricting, thereby leveling the GOP gerrymandered planning field.
Accomplishing this monumental task, which is Swing Left's goal, requires shoring up the Democratic base, while also bringing in people who rarely or never vote (disproportionately women, people of color, youth)—especially important given the GOP's voter-registration purges, ID requirements, tactics to discouraging turnout, and Trump's fear-mongering and disinformation.  
Swing Left, whose tactics helped Dems take back the House in 2018, has identified 12 "Super States" that will be key to success in 2020: Arizona, Colorado, Texas, Iowa, Wisconsin, Michigan, Ohio, Pennsylvania, Maine, North Carolina, Georgia and Florida.
Time is of the essence! 
Join the Fight!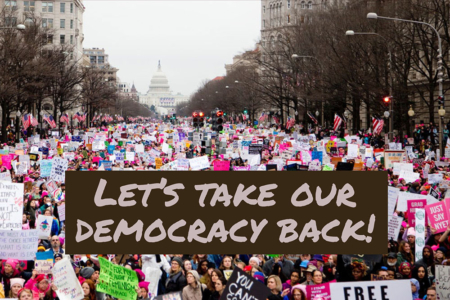 ---
**ACTION ONE:

TAKE ACTION IN 2020

 TO TAKE BACK OUR DEMOCRAC

Y

**

Between now and November commit to doing the following on a regular basis:  
---
ORD2 Indivisible 2020 Fundraising Campaign
As we approach what will be the most important election of our lifetimes, ORD2 Indivisible wants to be in a secure financial position to help engage as many voters in our district in the election process as possible. To accomplish this goal we are conducting the ORD2 Indivisible 2020 fundraising campaign. Click on the image below to donate.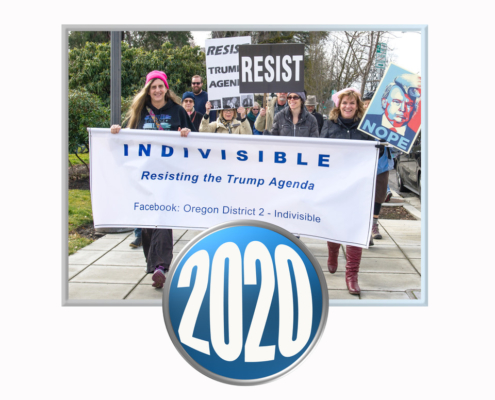 To make a donation by check, please make the check payable to ORD2 Indivisible and mail to:
ORD2 Indivisible
P.O. Box 1242, Phoenix, OR 97535
---
ORD2 Indivisible is partnering with Jobs With Justice Southern Oregon and Washington Federal Bank to gather warm adult clothing for the homeless. We are also asking for tarps, throw blankets and sleeping bags.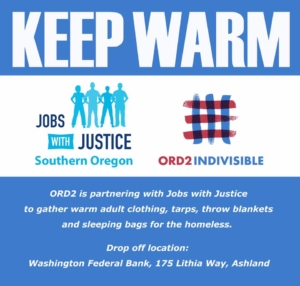 Please donate generously!
---
https://ord2indivisible.org/wp-content/uploads/2020/02/take-back-dem-with-sam.jpeg
154
202
CTA Team
https://ord2indivisible.org/wp-content/uploads/2017/06/ord2Logo-300x105.png
CTA Team
2020-02-14 06:45:16
2020-02-14 06:45:16
CALL TO ACTION #858: It's Time to Take Back Our Democracy (February 14, 2020)