CALL TO ACTION #825: Impeachment Vote Today; Demand Fair Senate Trial (December 18, 2019)

320 Days
Until the 2020 Election
---
IMPEACHMENT VOTE TODAY
DEMAND FAIR SENATE TRIAL
---
Yesterday we took to the streets because Trump remains a clear and present danger to our constitutional republic. Now is the moment to push our leaders to protect us from all enemies, both foreign and domestic.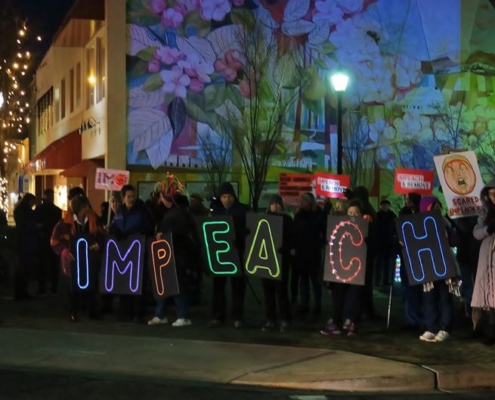 Today the House of Representatives votes on two articles of impeachment: abuse of presidential power for personal gain and obstruction of the Congressional impeachment investigation. The Constitution predates federal statutes, and therefore Presidential abuse of power need not violate federal law. This point is critical, because one opposition talking point is Trump did not break federal law.   
Last weekend, Leader McConnell announced Senate GOP leadership had consulted with the defendant, Donald Trump, and decided to hold a brief trial with no witnesses or documents. Moreover, Trump's GOP stated they had already decided he is not guilty. On Monday, Senator Schumer called for trial rules that ensure fairness – which McConnell rejected.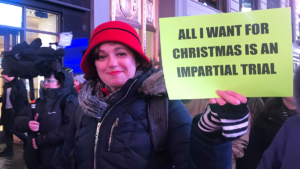 Our MoCs must take a stand.  Demand that Greg Walden VOTE YES on the articles of impeachment. Our Senators must insist Senate GOP leadership agree to fair rules.  Call them, tell them where you stand. Unless and until fair rules for the Senate trial are agreed, we will insist that the Articles of Impeachment be held in the House.
Demand Greg Walden Votes YES Today!
Demand Fair Senate Trial Rules!

---
**ACTION ONE: CALL OUR SENATORS**
https://ord2indivisible.org/wp-content/uploads/2019/12/honk-for-impeachment-e1576680102682.jpg
167
250
CTA Team
https://ord2indivisible.org/wp-content/uploads/2017/06/ord2Logo-300x105.png
CTA Team
2019-12-18 06:44:35
2019-12-18 06:45:01
CALL TO ACTION #825: Impeachment Vote Today; Demand Fair Senate Trial (December 18, 2019)