326 Days
Until the 2020 Election
---
CONGRESS: IMPEACH TRUMP AND BARR
---
Trump has committed impeachable offenses: abuse of power and obstruction of Congress.  Today the Judiciary Committee votes on articles of impeachment and sends them for a vote in the full House.  To support impeachment, we must: 

Call our Representatives, insist they do their duty and impeach Trump
Call our Senators, insist they prepare the Senate for a fair trial

 

Make plans to attend an Impeach and Remove Rally. 

Register now so you'll be notified as soon as the date is announced!

 – ( 

the night before the full House vote – likely Tuesday, December 18

th

or Wednesday, December 19

th

).
But Trump is not the only one who has committed impeachable offenses.  Barr's abuses as Attorney General are outlined here and he has continued down the same path this week. The Inspector General found the FBI's investigation into Russia's interference in the 2016 election was justified and not subjected to political bias but Barr "grossly mischaracterized and subverted the findings" and used the report:

as another opportunity to undermine our intelligence community 
to push forward Trump's lies about the Russia investigation 
to hurl accusations at President Obama.  


The abuse of power at the hands of Trump and his administration threatens the rule of law and our democracy. 
Congress must do its duty – impeach Trump and Barr.
---
**ACTION ONE:
RALLY TO 
IMPEACH 
AND
REMOVE TRUMP**
On the eve of the House's momentous vote on Articles of Impeachment – the culmination of three years of public outcry, advocacy, and protests – it will be time to SHOW UP FOR OUR DEMOCRACY.  
A nationwide protest is planned for 5:30 pm on the evening before the House floor vote, whenever that is scheduled – so probably Tuesday 12/17 or Wednesday 12/18.   Register now so you'll be notified as soon as the date is announced! 
Where:
If you don't see a rally in a town near you, you can create your own. It doesn't take much: just pick a place — like a courthouse, city hall, or some high-profile sidewalk — register the rally at www.impeach.org and the website will direct anyone conducting a search to be at that place when the call comes.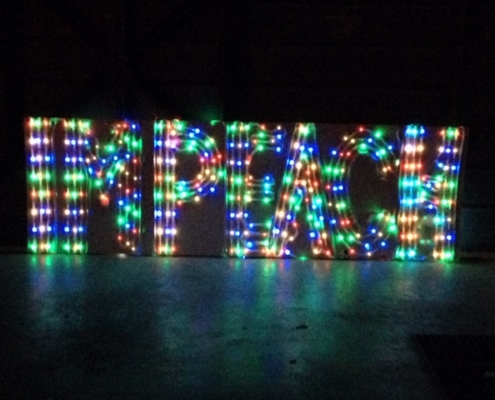 The world needs to see where we stand.  
Share this info.  
Show up for democracy.
---
**ACTION TWO: CALL OUR SENATORS**
https://ord2indivisible.org/wp-content/uploads/2019/12/Do-Your-Duty-e1576161554266.jpg
164
250
CTA Team
https://ord2indivisible.org/wp-content/uploads/2017/06/ord2Logo-300x105.png
CTA Team
2019-12-12 06:44:22
2019-12-12 06:44:22
CALL TO ACTION #821: Congress: Impeach Trump and Barr (December 12, 2019)