CALL TO ACTION #822: Stephen Miller Must be Removed (December 13, 2019)

325 Days
Until the 2020 Election
---
STEPHEN MILLER MUST BE REMOVED
---
White nationalist Stephen Miller's used his position to orchestrate an extreme anti-immigrant agenda: 
the Muslim ban 
the cruel family separation policy 
forcing asylum seekers to wait in Mexico  
DACA's recission 
pouring military funds into border wall construction 
efforts to slash refugee admissions, limit asylum access, prevent TPS extensions, disqualify immigrants using public resources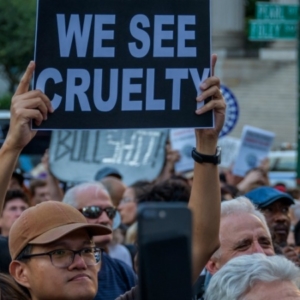 Assisting him is a loose network of administration lawyers and advisors who concoct and implement these draconian, inhumane policies. 
Miller's white supremacy, violent extremism and hate are antithetical to our democracy's values and should bar him from government service.
Almost 40 Senators and 107 Representatives (including most of Oregon's MoCs) and hundreds of civil rights organizations have called for Miller's resignation or removal by the White House. Greg Walden, once again and inexcusably, has been notably silent. Neither Miller nor his ideology belongs in government. Walden's failure to address the lack of morality being demonstrated by this administration proves he also does not belong in government.
We cannot continue to have our immigration policy determined by unelected, unconfirmed White House employees Trump shields from Congress nor can we allow this administration to ignore Congress while dismantling the immigration system through executive actions that gut existing regulations.
Congress must begin formal investigations of Miller and his white supremacist colleagues.
They must also withhold funding from ICE and the Border Patrol until these purveyors of violent extremism and hate are rooted out and removed. 
---
**ACTION ONE:
RALLY TO 
IMPEACH 
AND
REMOVE TRUMP**
On the eve of the House's momentous vote on Articles of Impeachment – the culmination of three years of public outcry, advocacy, and protests – it will be time to SHOW UP FOR OUR DEMOCRACY.  
A nationwide protest is planned for 5:30 pm on the evening before the House floor vote, whenever that is scheduled – so probably Tuesday 12/17 or Wednesday 12/18.   Register now so you'll be notified as soon as the date is announced! 
Where:
If you don't see a rally in a town near you, you can create your own. It doesn't take much: just pick a place — like a courthouse, city hall, or some high-profile sidewalk — register the rally at www.impeach.org and the website will direct anyone conducting a search to be at that place when the call comes.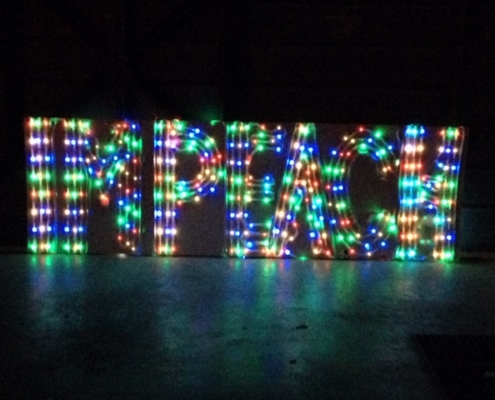 The world needs to see where we stand.  
Share this info.  
Show up for democracy.
---
**ACTION TWO: CALL OUR SENATORS**
https://ord2indivisible.org/wp-content/uploads/2019/06/Stop-Trump-e1559741065258.jpg
281
500
CTA Team
https://ord2indivisible.org/wp-content/uploads/2017/06/ord2Logo-300x105.png
CTA Team
2019-12-13 06:44:04
2019-12-13 06:52:36
CALL TO ACTION #822: Stephen Miller Must be Removed (December 13, 2019)