CALL TO ACTION #1037: For the People (October 27, 2020)

Seven

 
Days – One Week
Until We Are DONE Voting!
---
We Voted. How About You?
TOO LATE TO MAIL your ballot. Please take it to a ballot box!
November 3: Ballots must be in a

ballot box

or with the county clerk by 8 pm!
---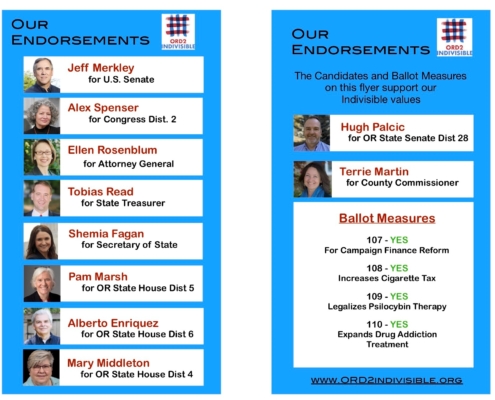 ---
***Today's Call To Action***
For The People!
Democrats work For The People. 
House Democrats passed HR1 — the For the People Act — in early 2019. This legislation restores election and government integrity. McConnell has refused to bring it to a vote. Why? Because it ends gerrymandering, voter suppression, dark money, and thus his minority rule. Democracy doesn't work for Trump or his GOP.
Senate Democrats held the floor all night on Sunday – For the People – and against GOP court-packing. Trump sows hate, stroking his ego, lining his pockets, and promoting authoritarianism and violence. His GOP uses the resulting chaos and archaic Senate rules to pack the courts with ideologues to take away our health care, civil rights and election security.
Trump and his GOP ignore our suffering, refusing to ensure we have the testing, contact tracing, PPE and effective treatments needed to mitigate the COVID-19 pandemic or the financial resources to weather it. They deny climate chaos and dismiss attempts to change centuries of racist policies and brutality.
We deserve leaders who work For the People.
We must act this week to Get Out the Vote. Biden and state and local Democratic candidates will win when every ballot is counted.
We will win with leadership For the People.
Get Out the
BLUE

Vote!
---
**ACTION ONE:

CALL OUR U.S. SENATORS

**

SAMPLE SCRIPT FOR SENATOR MERKLEY AND WYDEN:

"My name is [–] and I'm a constituent from [city], Oregon [zip code]. 

Thank you for your amazing effort Sunday night and for all you do to get out and protect the vote. Please keep working to:
Pass COVID-19 relief.
Make sure every vote counts.
Amplify the message that Biden and Democrats will win when every absentee ballot is counted. I am working to elect a Democratic Senate and President so we can restore our democracy with the For The People Act of 2019, get rid of the filibuster and one-person blocks to legislation, and reform our courts.
Thank you."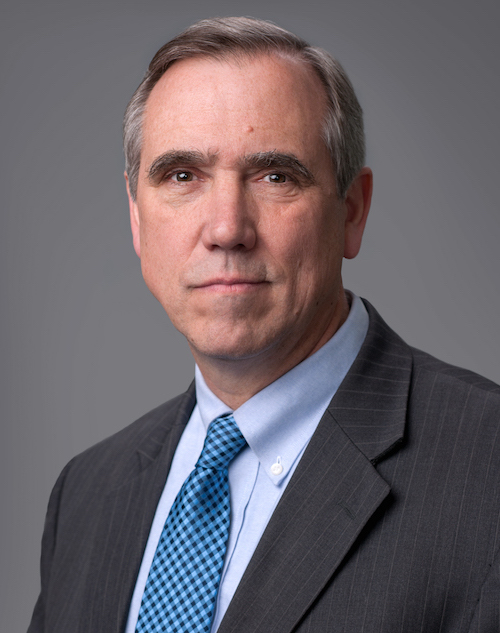 SENATOR JEFF MERKLEY
Portland: (503) 326-3386, DC: (202) 224-3753
Salem: (503) 362-8102, Eugene: (541) 465-6750
Medford: (541) 608-9102, Bend: (541) 318-1298
Pendleton: (541) 278-1129
https://www.merkley.senate.gov/contact/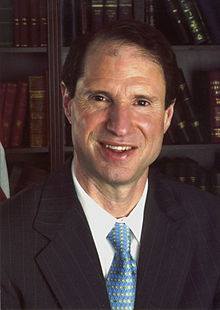 SENATOR RON WYDEN
Portland: (503) 326-7525, DC: (202) 224-5244
Salem: (503) 589-4555, Eugene: (541) 431-0229
Medford: (541) 858-5122, Bend: (541) 330-9142
La Grande: (541) 960-7691
https://www.wyden.senate.gov/contact/
---
**ACTION TWO:

CALL COMPLICIT GREG WALDEN**
SAMPLE SCRIPT FOR WALDEN:
"My name is [–] and I'm a constituent from [town/city], Oregon [zip code]. 
I believe in our democracy and am working to get out the vote. The Senate's refusal to vote on HR1 to restore our election integrity speaks volumes for how the GOP minority clings to power. It is time for that to stop.
Greg sold us out on healthcare, the tax scam, big pharma, the internet and so much more. The least he can do at this point is to stand up to the most corrupt and inept president in modern history. Silence is consent. Silence is complicity. 
Thank you."
---
**ACTION THREE:

BE AN ACTIVIST

**
October 28, 12:30 p.m. – 1:00 p.m.
Ongoing every Monday, Wednesday and Friday
#MyORHealth  Support is available for Oregon's "helpers"
Lines for Life has created a Virtual Wellness Room to offer support to helpers, mental health professionals, first responders, social workers and anyone considered an essential worker during the COVID-19 pandemic in Oregon. Each check-in call will have a facilitator to guide the conversation.
"We at Lines for Life want to thank you for all the work you do to keep our communities safe," the organization said. "We are offering a place for helpers to exchange stories of hope and areas of need. We especially want to hear what things are coming up for you personally and explore how we can cheer one another on to continue the good work you are already doing. We ultimately want to create space to breathe out stress and breathe in hope."
The meetings are held using Zoom conference calls from 12:30 p.m. to 1 p.m. every Monday, Wednesday and Friday at this link: https://zoom.us/j/4848426773. Please share this invite with anyone in your network of Oregon helpers.

Ongoing Action: Letters &
Postcards to Voters:
https://ord2indivisible.org/wp-content/uploads/2020/10/Democracy-People-e1603810208985.jpg
139
400
CTA Team
https://ord2indivisible.org/wp-content/uploads/2017/06/ord2Logo-300x105.png
CTA Team
2020-10-27 08:01:01
2020-10-27 08:05:35
CALL TO ACTION #1037: For the People (October 27, 2020)