CALL TO ACTION #812: Talking About Impeachment at Dinner Tomorrow (November 27, 2019)

341 Days
Until the 2020 Election
---
TALKING ABOUT IMPEACHMENT AT DINNER TOMORROW
---
You're bracing for impeachment discussions over the holiday. But the volume of revelations and the expanding cast of characters are daunting. Here are four essential facts to remember: 
(1) Trump attempted to extort Ukraine, not for policy purposes but for personal political gain.  
(2) Government officials including cabinet members, White House chief of staff, the EU ambassador knew what he wanted and helped.
(3) Russia, not Ukraine, interfered in the 2016 election. Russia is trying to pin it on Ukraine.
(4) This is far worse than Watergate. Trump jeopardized the US security and a country that is fighting one of our greatest enemies.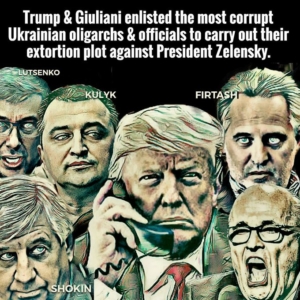 These facts were corroborated by non-partisan career professionals from the State Department and National Security Council.
Sometimes facts often don't settle arguments, so here are three strategies for leaning into a dispute:
Slow down.  Take a breath or two before replying. Encourage everyone to slow down, too.
Be curious.  Ask open-ended questions. Try to understand the other's point of view.
Find common ground. 70% of Americans believe that what Trump did was wrong but only 51% support impeachment – for now.
Conversations Can Have Consequences!
Good Luck!
---
Repeating yesterday's note: We know that many of you will have relatives or friends who are on the opposite side of the fence regarding politics. And we know that there may be uncomfortable conversations around the table during the upcoming holidays.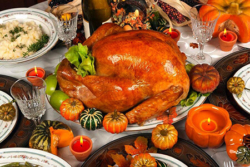 Better Angels is a citizens' organization uniting red and blue in a working alliance to depolarize America. Here's what they have to say:
---
ORD2 Indivisible 2020 Fundraising Campaign
As we approach what will be the most important election of our lifetimes, ORD2 Indivisible wants to be in a secure financial position to help engage as many voters in our district in the election process as possible. To accomplish this goal we are conducting the ORD2 Indivisible 2020 fundraising campaign. Click on the image below to donate.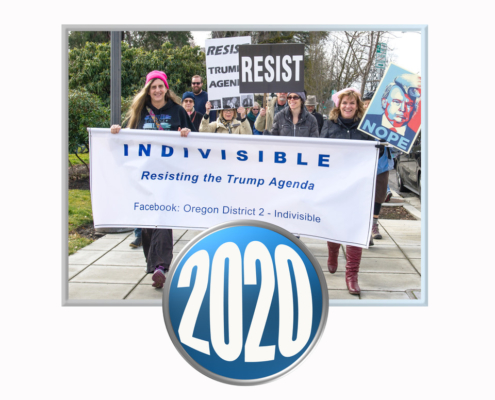 To make a donation by check, please make the check payable to ORD2 Indivisible and mail to:
ORD2 Indivisible
P.O. Box 1242, Phoenix, OR 97535
---
ORD2 Indivisible is partnering with Jobs With Justice Southern Oregon and Washington Federal Bank to gather warm adult clothing for the homeless. We are also asking for tarps, throw blankets and sleeping bags.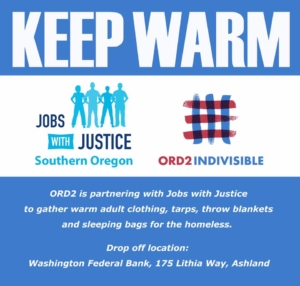 Please donate generously!
https://ord2indivisible.org/wp-content/uploads/2019/11/o-THANKSGIVING-FAMILY-facebook.jpg
1000
2000
CTA Team
https://ord2indivisible.org/wp-content/uploads/2017/06/ord2Logo-300x105.png
CTA Team
2019-11-27 07:19:34
2019-11-27 07:19:34
CALL TO ACTION #812: Talking About Impeachment at Dinner Tomorrow (November 27, 2019)