Call to Action: FLASH RALLY TODAY, NOVEMBER 8, 2018 – VOGEL PLAZA
Indivisible and MoveOn have called for rallies across the country in response to Donald Trump's firing of Attorney Jeff Sessions.
Join us as we gather at
Vogel Plaza in Medford at
5:00 P.M. TODAY!
Over 700 rallies will take place at 5 p.m. local time across the country. The protests will focus on Donald Trump's attempt to interfere with Robert Mueller's Special Investigation into Trump's Russia connections. Sessions had recused himself from overseeing the investigation because of his involvement with the Trump campaign. Trump's pick for his replacement, Acting Attorney General Matt Whitaker, has been an outspoken critic of the investigation and publicly discussed strategies to stifle it.
The Nobody Is Above the Law network demands that Whitaker immediately recuse himself and not oversee the investigation. The network believes Trump has just crossed a red line, violating the independence of the investigation. It is our belief that Trump has put himself above the law, threatening our nation's democracy.
We demand that Congress stop him and protect Mueller's investigation.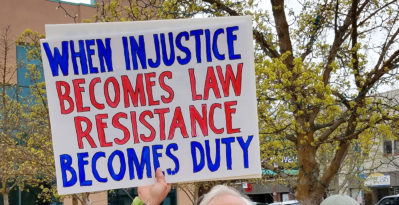 Note: If you choose to attend this event, you agree to engage in nonviolent, peaceful action, to act lawfully, and to strive to de-escalate any potential confrontations with those who may disagree with our views and values.
---
**ACTION ONE: CALL OUR SENATORS**
SAMPLE SCRIPT FOR MERKLEY AND WYDEN:
"My name is [–] and I'm a constituent from [town/city], Oregon [zip code]. America faces a Constitutional crisis – the Mueller investigation is defenseless. Congress must ACT NOW and pass legislation to protect Mueller. Trump is not above the law. Thank you."
Portland: (503) 326-7525, DC: (202) 224-5244
Salem: (503) 589-4555, Eugene: (541) 431-0229
Medford: (541) 858-5122, Bend: (541) 330-9142
La Grande: (541) 960-7691
https://www.wyden.senate.gov/contact/
SENATOR JEFF MERKLEY 
Portland: (503) 326-3386, DC: (202) 224-3753
Salem: (503) 362-8102, Eugene: (541) 465-6750
Medford: (541) 608-9102, Bend: (541) 318-1298
Pendleton: (541) 278-1129
https://www.merkley.senate.gov/contact/
---
**ACTION TWO: CALL COMPLICIT GREG WALDEN**
SAMPLE SCRIPT FOR WALDEN:
"My name is [–] and I'm a constituent from [town/city], Oregon [zip code]. America faces a Constitutional crisis – the Mueller investigation is defenseless. Greg Walden must put Country Before Party and ACT NOW to pass legislation protecting Mueller. Trump is not above the law. Thank you."
COMPLICIT GREG WALDEN
DC (202) 225-6730, Medford: (541) 776-4646,
Bend (541) 389-4408, La Grande (541) 624-2400
https://walden.house.gov/contact-greg/email-me
https://ord2indivisible.org/wp-content/uploads/2018/06/Nobody-is-Above-the-Law.png
200
525
CTA Team
https://ord2indivisible.org/wp-content/uploads/2017/06/ord2Logo-300x105.png
CTA Team
2018-11-08 06:38:07
2018-11-08 06:38:07
Call to Action: FLASH RALLY TODAY, NOVEMBER 8, 2018 – VOGEL PLAZA