Call to Action: August 24, 2018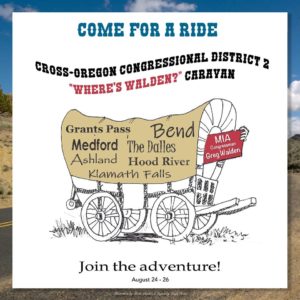 Theis week marks 500 days since Greg Walden has had a town hall anywhere in Oregon Congressional District 2. A lot of Indivisibles have gotten tired of his little secret meetings and have decided to do something about it.
If he won't bring a town hall to us, we've decided to take one to him.
Today is the day!

Please join us for what we hope is the first and last cross-district

"Where's Walden?"

caravan. 

If you can't join the full caravan adventure, come to one (or more) of our gathering spots and drive along as far as you can.

We anticipate a media presence at each stop.
Here is the schedule:
FRIDAY
SATURDAY*
*10 a.m. Meet for a 

"Where's Walden?"

Rally! 

 *NOTE: Corrected location:

 "Walden's Corner", Bond and Greenwood. Caravan leaves at 11.
1:30 p.m. Arrive in The Dalles and meet Indivisible Columbia Gorge at 

The Dalles City Park, 707 Union St

. Caravan leaves at 3:00.
4 p.m. We arrive at the Hood River.  Meet at the Chamber of Commerce, 720 E. Port Marina, for a party and town hall outside Greg Walden's office. We don't know if he'll be there, but Jamie McLeod-Skinner will!
Spend the night in Hood River.
SUNDAY, we'll gather for a little coffee and canvassing before we all head home.
Help us tell Greg Walden that we're tired of not having town halls, so we're taking our questions and concerns to him.
Everyone will be responsible for their own gas, food and accommodations. Some Indivisibles have offered homestays. Others are looking for someone to ride with.  (Anyone coming over from Baker City?) Dress up your car if you can. We'll have t-shirts and "Where's Walden?" signs available at every stop.
There's still time to participate so if your plans have changed and you need a place to stay or want to ride along, please send an e-mail to Teresa Safay at  or send her a private message via Facebook.
Visit the Event Calendar on the ORD2 Indivisible website for additional details: https://ord2indivisible.org/calendar/
---
DAYS UNTIL MID-TERM BALLOTS WILL BE MAILED:
54
DAYS UNTIL MID-TERM BALLOTS ARE DUE:
74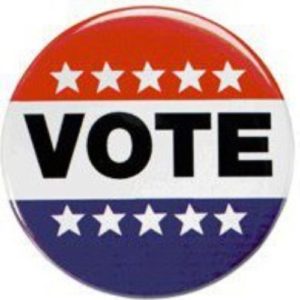 CELEBRATE AND SUPPORT DIVERSITY IN AMERICA
---
The push for less diversity in America is gaining ground, as the administration finds bureaucratic levers to deport more immigrants and force others into hiding.
We must use our power to stop white supremacist policies and to flip the Congress this fall.
We cannot stand by; remaining silent would make us complicit like Walden.
Donald Trump is Racist!
Stop His Regime's White Supremacist Policies!
---
**ACTION ONE:
CALL OUR SENATORS**
SAMPLE SCRIPT FOR MERKLEY AND WYDEN:
"My name is [Name]. I am a constituent and voter from [ – ] Oregon, ZIP code [number]. I am outraged by the Trump's drive to whiten America. I strongly urge the Senator to keep fighting against Brett Kavanaugh's confirmation to the Supreme Court because Kavanaugh is likely to support racist, anti-immigrant policies. Also, I ask the Senator to protect the Census from becoming a tool of anti-immigration policies and to stop any proposal to deny citizenship to or deport immigrants who have used public programs.  Thank you for recording my views."
SENATOR RON WYDEN 
Portland: (503) 326-7525, DC: (202) 224-5244
Salem: (503) 589-4555, Eugene: (541) 431-0229
Medford: (541) 858-5122, Bend: (541) 330-9142
La Grande: (541) 960-7691
https://www.wyden.senate.gov/contact/
SENATOR JEFF MERKLEY 
Portland: (503) 326-3386, DC: (202) 224-3753
Salem: (503) 362-8102, Eugene: (541) 465-6750
Medford: (541) 608-9102, Bend: (541) 318-1298
Pendleton: (541) 278-1129
https://www.merkley.senate.gov/contact/
---
**ACTION TWO:

  CALL COMPLICIT GREG WALDEN!**

"My name is [Name]. I am a constituent and voter from [ – ] Oregon, ZIP code [number]. I am outraged by the Trump regime's anti-immigration policies and Greg Walden's silent support of these outrageous policies. Our district benefits tremendously from immigrants, legal and undocumented. It's time for Mr. Walden to put People and Country Before Party, to protect the Census from being a tool of anti-immigration policies and to stop any proposal to deny immigrants citizenship and deport those who have used public programs. Thank you for recording my views."
https://ord2indivisible.org/wp-content/uploads/2018/08/All-Lives-Matter.jpg
637
960
CTA Team
https://ord2indivisible.org/wp-content/uploads/2017/06/ord2Logo-300x105.png
CTA Team
2018-08-24 07:04:07
2018-08-24 07:04:07
Call to Action: August 24, 2018