DAYS UNTIL MID-TERM BALLOTS WILL BE MAILED:
51
DAYS UNTIL MID-TERM BALLOTS ARE DUE:
71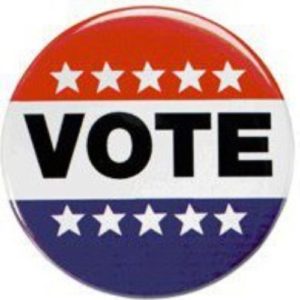 STOP MEGA-RICH TAKEOVER OF ELECTIONS
---
Massive donations to Republican campaigns are pouring in from the mega-wealthy:
–The Koch network pledged $400 million
–Paul Ryan's Congressional Leadership Fund (CLF) reports $96 million in 2018 donations including:
$30 million from Sheldon Adelson, whose casino conglomerate received a $700 million post-tax windfall;
$24 million from Timothy Mellon, majority owner of transportation giant Pan American Services;
$1.5 million from relative cheapskate Valero Services, an oil company that reaped $1.9 billion from tax cuts in first quarter 2018;
a gaggle of other donations totaling 25% funneled through American Action Network, a group run by head of CLF.
Only 71 days remain until the Midterms. To counter these massive donations, People Power must rise up and out-organize the mega-rich.
We must also prevent Brett Kavanaugh's confirmation. He's lauded the Supreme Court's terrible Citizens United decision, which allows these mega-donations. Scour your extended networks for people who live in Maine, Alaska and red states with Democratic Senators. Ask them to call their Senators to oppose Kavanaugh's confirmation. Thank Senators Merkley and Wyden for leading the fight!
Raise your voice!
Open your wallet!
Make the Blue Wave powerful!
---
**ACTION ONE:

ELECT A NEW CONGRESS**
---
**ACTION TWO:

CONTACT YOUR NETWORK IN MAINE, ALASKA, WEST VIRGINIA, NORTH DAKOTA, INDIANA, AND MISSOURI TO STOP KAVANAUGH'S NOMINATION**
Make a list of former classmates, members of professional groups, fraternity brothers and sorority sisters, people on your holiday cards list, former neighbors, and anyone else who share your values and is represented by Senators Collins (ME), Murkowski (AK), Manchin (WV), Heitkamp (ND), Donnelly (IN), or McCaskill (MO). Then urge each of them to call their Senators and instruct them to oppose Kavanaugh's nomination and prevent him from being confirmed.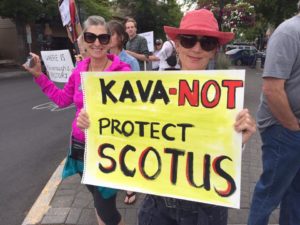 ---
**ACTION THREE:
CALL OUR SENATORS**
SAMPLE SCRIPT FOR MERKLEY AND WYDEN:
"My name is [–] and I'm a constituent and voter from [city], Oregon [zip code]. I am deeply concerned about the effect of money in politics. This is just another reason why Senator _______ must keep fighting against Brett Kavanaugh's confirmation to the Supreme Court.
(Optional: I have called friends in [States] to urge their Senators to oppose Kavanaugh's nomination.)
Please do all that you can to keep Kavanaugh's nomination from coming up for a vote. Thank you for your leadership on this issue."
SENATOR RON WYDEN 
Portland: (503) 326-7525, DC: (202) 224-5244
Salem: (503) 589-4555, Eugene: (541) 431-0229
Medford: (541) 858-5122, Bend: (541) 330-9142
La Grande: (541) 960-7691
https://www.wyden.senate.gov/contact/
SENATOR JEFF MERKLEY 
Portland: (503) 326-3386, DC: (202) 224-3753
Salem: (503) 362-8102, Eugene: (541) 465-6750
Medford: (541) 608-9102, Bend: (541) 318-1298
Pendleton: (541) 278-1129
https://www.merkley.senate.gov/contact/
https://ord2indivisible.org/wp-content/uploads/2018/08/The-Midtermination-Cometh-e1535377953579.jpg
600
600
CTA Team
https://ord2indivisible.org/wp-content/uploads/2017/06/ord2Logo-300x105.png
CTA Team
2018-08-27 07:00:51
2018-08-27 07:00:52
Call to Action: August 27, 2018