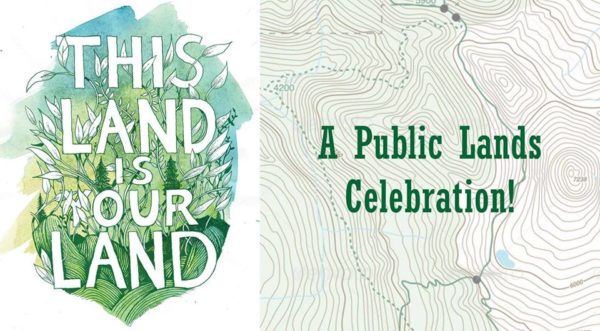 Come gather in the name of our public lands that we love and share! This event is going to be the largest of its kind in our region, standing in solidarity with other events to support public lands, happening throughout the West on July 27th. This will be a terrific way to come together with our community and network for future collaborations.  Join us at The Commons Medford, N. Bartlett Street at 5th, Medford.
4pm – 6pm We'll be celebrating with local band Sweetgrass, games, speakers, and booths from local organizations and businesses. 
6pm-7pm Followed by Happy Hour at Common Block Brewing Company.
Will you join us? 
Here are some fine foiks that you can expect to find at this event:
– Applegate Neighborhood Network
– Applegate Trails Association
– Ashland Outdoor Store
– Ashland Flyshop
– Flywater Travel LLC
– Friends of the Cascade-Siskiyou National Monument
– Get N' Gear sporting goods store
– GEOS Institute
– KS Wild
– Mt. Shasta Bioregional Ecology Center
– Northwest Forest Workers
– Northwest Nature Shop
– Rogue Riverkeeper
– Southern Oregon Climate Action Now
– Southern Oregon Land Conservancy
– Williams Community Forest Project
– Willow-Witt Ranch
– And now, ORD2 Indivisible
This event is being hosted by the following: