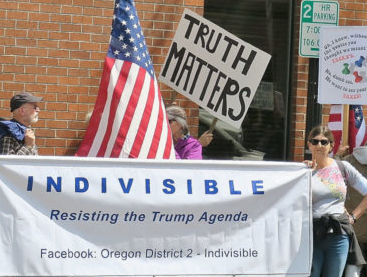 We will be holding an Oregon District 2 Indivisible Introductory Meeting in Gold Hill!  If you have never attended an Indivisible Introductory Meeting and if you've always wondered what Indivisible is, how it works and why you should be part of it, here's a meeting just for you ~ in the north end of the valley.  Invite your family, friends and neighbors and join us as we discuss how Indivisible began, what we have accomplished so far and our future plans and goals.
Right, left or center, all political affiliations are welcome.
Are you upset about how your government is functioning?
Are you ready to do more than just vote?
Would you like your voice to be heard by your Members of Congress?
Attend an Introductory ORD2 Indivisible Meeting to learn effective ways to collectively engage your Members of Congress. Learn how we are making a difference!
There are over 6,000 Indivisible Groups nationwide. Get involved. Get engaged. Get started.
It is empowering.
Oregon District 2 Indivisible is a grassroots group of non-politically aligned, concerned citizens learning more about democracy every day. Issue by issue, we work hard to hold our local elected leaders accountable to their constituents. We are rediscovering the power of the people, as we make our voices heard individually and COLLECTIVELY. Donald Trump's agenda, based in racism, authoritarianism, and corruption will take America backwards and must be stopped.
ORD2 Mission Statement:
Our mission is to resist the current administration and to promote the progressive values of honesty, inclusion, fairness, and tolerance. We endeavor to affect change at all levels of government, advocating for policies that support well being and prosperity for everyone.