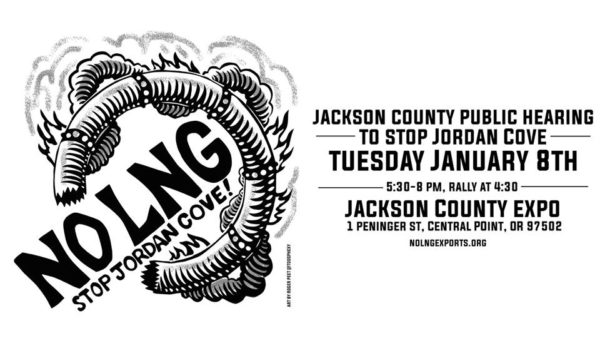 Join us for a rally and public hearing to stop the Jordan Cove LNG export terminal and Pacific Connector fracked gas pipeline in Jackson County.
If built, the Jordan Cove LNG project would harm nearly 500 waterways (including the city of Medford's public drinking water source), seize property from private landowners through eminent domain, create a major safety and public health hazards, impact Tribal territories, cultural resources, and burial grounds, and become the largest source of climate pollution in the state.
The Oregon Department of State Lands (DSL) will hear from the public about whether Jordan Cove's Removal-Fill permit should be denied or approved. This is one of the state permits that, if denied, would stop the Jordan Cove LNG even if the Federal Government approves the project.
Take action at a rally at 4:30 p.m. at the expo before the hearing starts to show our opposition! More info on writing a public comment and a rally before posted in the event page. PLEASE WEAR RED.
You can take action now by submitting written comments at https://nolngexports.good.do/DSL/DSLComments/
There are 5 different hearings across Oregon:
Monday, Jan. 7 from 5:30-8 p.m. at Klamath Falls Community College, Commons Building, 7390 S 6th St., Klamath Falls, Ore.
Tuesday, Jan. 8 from 5:30-8 p.m. at the Jackson County Expo, Padgham Pavilion, 1 Peninger Rd, Central Point, Ore. (Rally in the Olsrud Arena building). At 4:30 PM the rally will begin in the Olsrud room at the Jackson County Expo. We will have FREE pizza, FREE t-shirts, and an info station to help you write your comments. We will have comment templates, information about the impacts of Jordan Cove, and people to help you write comments at the info table also starting at 4:30 PM.
Sign-up to deliver testimony at the hearing will begin at 5:15 PM in the Padgham Pavilion. If you are writing testimony at home, please bring a copy to submit to DSL in the case they run out of time and you do not get to speak. Testimony should be less than 2 minutes. ANYONE CAN AND SHOULD SIGN UP TO TESTIFY! We will be doing our best to ensure those most impacted by the project testify earlier. (MORE INFO ON WRITING COMMENTS: www.nolngexports.org/write-comments/)
At 5:30 PM the hearing will start in the Padgham Pavilion. Find the Map of the Expo HERE: http://www.attheexpo.com/Page.asp?NavID=448  No signs or posters are allowed inside the hearing room, so please WEAR RED to show your opposition to Jordan Cove. At 8:00 PM sharp DSL will close the hearing, even if there are people still signed up to speak.
Wednesday, Jan. 9 from 5:30-8 p.m. at Seven Feathers Casino, Cedar Room, 146 Chief Miwaleta Ln., Canyonville, Ore.
Thursday, Jan. 10 from 5:30-8 p.m. at the Mill Casino, Salmon Room West, 3201 Tremont Ave., North Bend, Ore.
Tuesday, Jan. 15 from 5:30-8 p.m. at the Department of Veterans' Affairs, Auditorium, 700 Summer St NE, Salem, Ore. Please note: this is a NEW LOCATION!