On September 20, 2019, millions of us will walk out of our workplaces and homes to join young climate strikers on the streets and demand an end to the age of fossil fuels.
Our house is on
fire

— let's act like it.
We demand
climate justice

for everyone.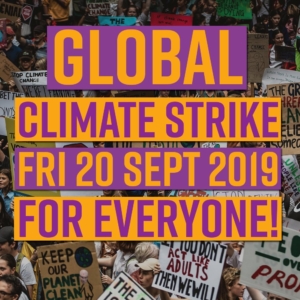 The Global Strike for Climate Action is likely to be the largest ever worldwide event calling for climate action now. While it is a youth-led event, international organizers are calling for a strong showing of people of all ages to stand in solidarity with students in demanding climate action now… and showing that we have the will, the passion, the courage, and the raw people power to make it happen.
Following the student walkouts and rally at the Ashland Plaza from 11 to noon, adults and students join together, for the Unite for Climate Action event from noon-3:45 pm at the Butler Bandshell in Lithia Park.
We are planning a community picnic and a day of joy and creativity to demonstrate powerfully that we share the concerns of our local students and are with them wholeheartedly in this transformative effort to address climate change. Under the creative direction of Barret O'Brien the afternoon will feature a varied program of music, uplifting presentations, poetry, group art, spiritual centering for climate healing, and information on opportunities for taking personal and community action.
A number of community organizations have been invited to table at this event, organizations such as Southern Oregon Climate Action Now (SOCAN), Southern Oregon Pachamama Alliance Community, the GEOS Institute and ORD2 Indivisible. Those tabling will have the opportunity to provide information about taking personal and collective action to create a sustainable future and advocate for climate action. We hope that you will join with us to celebrate our beautiful planet and be inspired and energized to continue to build momentum and take real action to address climate change.