"Awakening the Dreamer", an interactive group experience developed by the Pachamama Alliance. Come explore how a just and sustainable future is possible for humanity. This program has been delivered to thousands in over 80 countries since 2005. Participants look at the state of the world environment – where we are and how we got here—and then explore what role we can play in bringing forth an environmentally sustainable, spiritually fulfilling, socially just human presence on this planet.
"Awakening the Dreamer" April 13, 1:00-4:30 pm, 129 NW E Street, Grants Pass (at Unitarian Universalists Grants Pass across from Ma Mosa's). For more information or to reserve your spot contact Dorothy at larkswain@jeffnet.org or call Michelle at 707-508-5052 Co-sponsored by SustainableRogueValley.org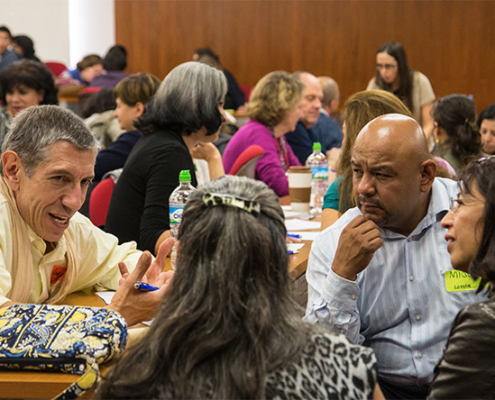 More about Pachamama Alliance:
The Awakening the Dreamer Symposium is developed and distributed by the Pachamama Alliance, a San Francisco-based nonprofit started at the invitation of indigenous people of Ecuador's Amazon rainforest. Through this symposium and other workshops, the Pachamama Alliance works to generate widespread awakening at the grassroots level and a transformation of our worldview, so that humanity becomes committed to restoring and protecting the environment and moves towards social justice and spiritual fulfillment.
The Awakening the Dreamer Symposium is designed for anyone who wishes to deepen their understanding of the current state of our world and how we can take action to create environmental sustainability, spiritual fulfillment, and social justice for all humanity. The symposium's featured videos include of some of the world's leading experts on the current state of the Earth's biodiversity and the reality of the socio-economic disparity throughout the world. This is an opportunity to share your concerns about the state of the world with like-minded members of your community, and offer support to each other in taking steps to effect the changes you want to see.