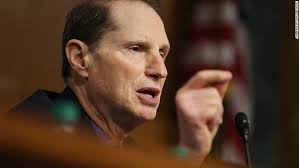 U.S. Sen. Ron Wyden will hold town halls May 25-28 in Douglas, Coos, Curry and Josephine counties.
Wyden has held 937 town halls statewide overall since promising Oregonians that he would hold at least one annual town hall in each of the state's 36 counties.
"These upcoming town halls in Douglas, Coos, Curry and Josephine counties allow any Oregonian to ask me any question or share any idea," said Wyden, who this year won a second straight MVP award from the Town Hall Project for holding the most town halls of any senator in 2018.
"Open-to-all community meetings represent the freedoms we treasure, thanks to the many Americans we honor this Memorial Day weekend for making the ultimate sacrifice," Wyden said. "And throwing open the doors of government and listening to Oregonians everywhere is essential to finding solutions that work throughout our state."
Saturday, May 25
11:30 a.m. — Sen. Ron Wyden Town Hall, Douglas County, Roseburg High School Rose Theater, 400 W. Harvard Ave.
4 p.m. — Sen. Ron Wyden Town Hall, Coos County, Marshfield High School Auditorium, 972 Ingersoll Ave., Coos Bay