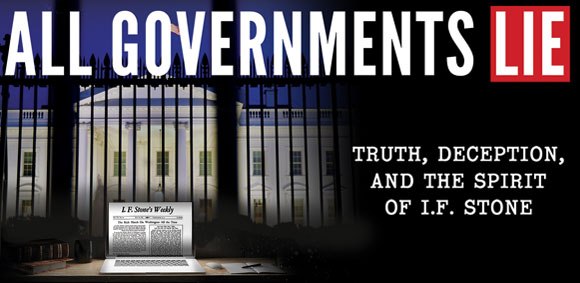 RootsAction cofounder JEFF COHEN (who founded the progressive media watch group FAIR) is touring Oregon with the documentary movie, "ALL GOVERNMENTS LIE" which he co-produced.
SAT. MAY 26, ASHLAND:  6:30pm screening/Q&A with JEFF COHEN at Unitarian Universalist Church, 87 4th St.
Tell friends. Bring friends.
"ALL GOVERNMENTS LIE" has been seen in film festivals and on public TV channels across the globe. But it's apparently too controversial for PBS.
The documentary focuses on official liars – including U.S. presidents from Lyndon Johnson to Donald Trump – but the stars of the movie are independent journalists who've exposed government deceit. These include AMY GOODMAN & NERMEEN SHAIKH (Democracy Now!), GLENN GREENWALD & JEREMY SCAHILL (The Intercept), MICHAEL MOORE, THE YOUNG TURKS, and the legendary I.F. ("IZZY") STONE, who challenged official propaganda, wars and racism for decades until his death in 1989.
"An urgent and fascinating documentary" – Variety
"A damning indictment of mainstream media" – Los Angeles Times
JEFF COHEN is a media critic and film producer who wrote "Cable News Confidential: My Misadventures in Corporate Media." He was a political pundit on national TV until his termination for political reasons by MSNBC just weeks before the invasion of Iraq. For the last decade, he has been a journalism professor at Ithaca College in New York, where he established the Izzy Award (named after I.F. Stone) for "outstanding achievement in independent media."
More info on the movie:  allgovernmentslie.com
More info on Jeff Cohen: jeffcohen.org